Grand River Publishes Infographic Comparing Private vs. Public School Outcomes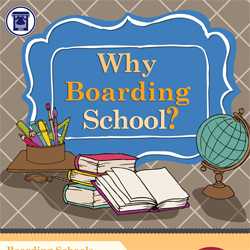 Over the years, distinct trends have formed about the academic success of students enrolled in
college preparatory education
versus public education. Private school education is shown, through numerous studies, to outstrip public school education. Grand River Academy, a boys' private boarding school, has compiled some of this research and published an infographic on the subject. In addition to illustrating the statistics, Grand River has also provided some analysis as to why these trends have emerged and how they impact a child's educational experience.
For example, one panel of the infographic discusses class size. It reports that the average class size in boarding schools is 6-10 students compared to 30-40 students in public schools. The infogrpahic goes on to explain that personal attention gives way to assignments and deadlines as the number of students in a class increases. Private schools, on the other hand, place added emphasis on student-teacher interactions so that children are more engaged and ultimately more successful.
Extracurricular performance is also influenced by a student's academics. Owing to the encouraging campus environment at boarding schools, students are more likely to participate in sports (12 hours to 9 hours at public schools), music and art (6 hours to 4-5 hours), and student government and club activities (35% of students to 27% of students). Even when class isn't in session, boarding school students are more encouraged to explore their outside interests.
Exploring a student's life after boarding school, the infographic shows that 87% of graduates feel they were completely prepared for college, 80% feel they were equally prepared for the non-academic aspects of college life (such as social integration, time management, and increased independence), and 60% of alumni donate to service organizations compared to 46% of public school graduates. This speaks to the maturity and social awareness that boarding schools instill into their students.
See the infographic for more details about student achievements in boarding schools versus public schools.
Grand River Academy is a private boarding school for boys, located near Cleveland, Ohio. The school creates a structured environment where boys can excel in their academics. The curriculum of Grand River Academy provides ample support for students with learning disabilities, such as ADHD and dyslexia. Elective course offerings and extracurricular activities are offered in a wide range, and students are highly encouraged to engage in these opportunities. For more information about the benefits of enrollment in a
boarding high school
, contact Grand River Academy.
Email Grand River Academy