PortableCounter.com Launches New E-Commerce Site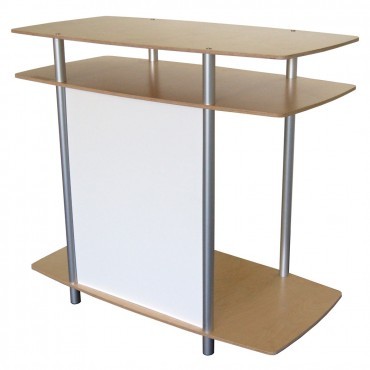 The
trade show
industry is forever changing. Five years ago if an exhibitor wanted to include a counter in their trade show booth, they were looking at a heavy, inconveinant, hard to assemble counter that would also add to their drayage. New technologies, design, manufacturing and materials have allowed trade show counters to become light weight, easy to assemble and inexpensive to ship. For these reasons,
PortableCounter.com
was developed in hopes to provide trade show goers with attractive, light weight and easy to use counters.
PortableCounter.com is a new e-commerce site that offers all types of
trade show counters
in one place. The trade show market is forever expanding and including new materials for displays. We at PortableCounter.com saw a demand in the market for high-quality and portable trade show counters at competitive prices. We strive to meet the demands of this market by providing portable counters that are light weight, convienent to ship and easy to assemble. PortableCounter.com is proud to be a one stop shop, e-commerce for all of your trade show counter needs. Our competively priced products are backed by our outstanding costumer service and our willingness to work with you and your vision. PortableCounter.com will make you stand out at your next show with custom options to our counters to fit your needs.
Trade show counters are almost a neccessity in the trade show industry as of late. They have moved from the "accessory" category into more of the "necessary" category for trade show displays. Portable counters help displays flow with ease and give exhibits more of a floor plan for visitors to follow. Since an exhibit has less than ten seconds to catch a patron's attention, exhibitors want their trade show display to be as visually appealing and inviting as possible, which can be accomplished by including a counter for a neat display or to serve as a podium for a "greeter" to be stationed.
PortableCouner.com was developed in
Magento Go
, providing you a safe and secure platform to purchase your portable counter for your next trade show. All the sales are facilitated through authorized.net keeping your personal information safe and secure. We look forward to working with you on your next trade show counter project.