BookedIN's new enhanced services: get customized and get organized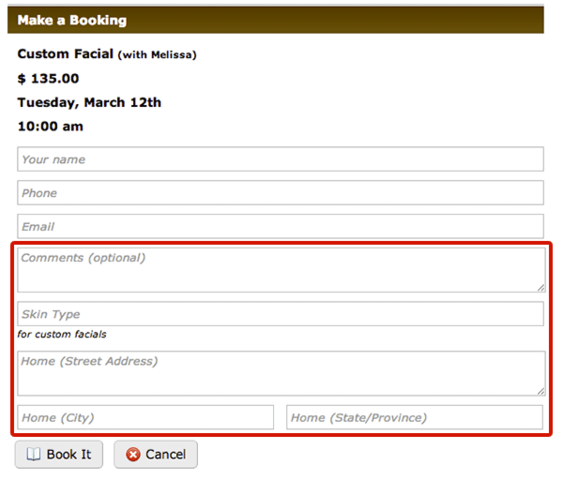 March 14, 2013 (Winnipeg, MB) - BookedIN is rolling a medley of new, enhanced customizable features this week—all designed to help small businesses get the most out their BookedIN business solution. Thousands of small businesses have already discovered the advantages of getting BookedIN to help get noticed, get booked and get paid. You had feedback, and we listened.
"We're constantly evolving BookedIN to suit our client's needs," said Mike Iwasiow, Founder and CEO of BookedIN. "Every business is different, and we realize that for our customers to get the most out of BookedIN we have to continually offer exciting new, valuable features. The challenge is to keep the service easy to use. We're very committed to that."
The new features let users get organized by colour coding services in their schedule and attaching comments and notes to client files, services and bookings. New custom fields let you collect client addresses, special notes and other important client information. And of course, BookedIN always gives you the flexibility to make bookings and request payments online-from anywhere, at any time.
BookedIN is an easy-to-use, online solution that allows service-based businesses the essential tools that they need to get up and running quickly. BookedIN provides businesses with a free web page and a customizable scheduling tool that lets your customers make and pay for bookings at any time, from anywhere in the world.
BookedIN is a privately funded software company created to help other small businesses succeed and grow. BookedIN has been featured in the Google Chrome Web Store and is in the Mozilla Marketplace. We're headquartered in Winnipeg, Manitoba and online at
www.getbookedin.com
.
Media inquiries: