GreenRope Goes Mobile with the Launch of Their New and Improved Mobile Application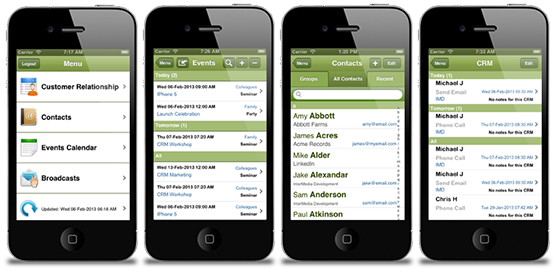 GreenRope, the world's first business operating system, recently launched their new and improved mobile application allowing users to access their CRM, contacts, events, calendar, and more.
"With over four billion phones out there, having a mobile application was critical for us. More people than ever are working via their mobile, especially sales professionals, and the GreenRope mobile application allows these users to access pertinent information on the go," CEO, Lars Helgeson explains.
The GreenRope mobile application is available for all GreenRope users, and can be downloaded free on iTunes. The application contains a variety of GreenRope features including the following:
CRM: Users can view all of their activities and tasks associated with their contacts in the CRM, as well as edit them accordingly. This is great for sales executives on the go needing to update their CRM as they progress through their day, resulting in greater productivity and consistently updated information.
Contacts: Users are able to view all contacts in any group they are a part of. This enables the user to easily view and edit all pertinent information for that contact. Instead of having to login into your computer or search through a notepad for a phone number, all information is available on the GreenRope app.
Events: View, create and manage events in your calendar in the new mobile app. Subscribing to calendars, editing events, as well as creating or deleting events is easy and syncs directly with your calendar.
View Broadcasts: View all broadcasts that have been sent from your GreenRope account, as well as their statistics. With the GreenRope mobile app users can see who read the emails and what they clicked on, so you can easily track the effectiveness of your broadcast. This is also a great way to track your contact's activity, increasing your knowledge of what they may or may not find useful, engaging and interesting.
The new mobile app also syncs with the web interface, so that anything you do on the go will be updated the next time you log into GreenRope via the web enhancing efficiency and productivity for any user.
The GreenRope mobile application is a just another feature illustrating GreenRope's commitment to helping businesses grow to their full potential, as well as being the most robust and user-friendly business operating system in existence.
About GreenRope
Lars Helgeson, founder of GreenRope, the world's first business operating system, saw the need to make running a small to mid-sized business easier and more efficient. GreenRope's mission is to resolve the challenges of managing business operations by providing cloud-based integrated software that is effective, affordable, and user friendly. GreenRope streamlines key operations, including e-commerce and accounting, CRM, email marketing, calendaring, websites, social media and more, into one easy-to-use platform. By using GreenRope, companies can reduce their marketing and CRM software expenses by an estimated 80%. GreenRope's affordable pricing plans start as low as $99/month. Visit
www.greenrope.com
for more information.