Welcome To Wherever: 15% Off All Geckos' Tours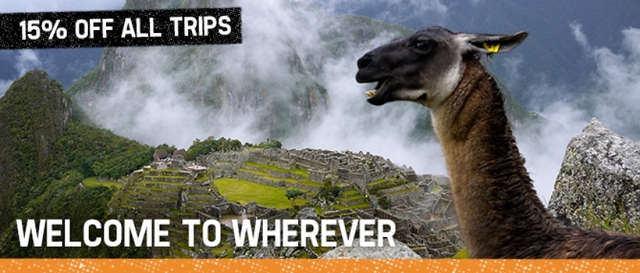 GECKOS ADVENTURES has doused its eyeball-popping range of epic trips in a sweet-smelling bucket of 15% off.
The 'Welcome to Wherever' sale means Geckos' travelers will be chomping on crickets in
Thailand
, necking a Pisco sour in
Peru
or hanging out with gorillas in
Uganda
before they know it.
"We want more travelers to get out there and run wild," said Head of Sales, Mat Lewis. "And giving them 15% off our trips is the best way we could think of to get them there faster."
With a brochure spouting lines such as, "Get your haggling hat on, mind the cows, and keep your hands and feet inside the tuk-tuk at all times," (Infra-Red India p61) and "Tip for riding camels: approach with caution, they can smell fear," (Drunk On Colour p117), travelers can count on Geckos to provide plenty of unique, authentic experiences.
Loyalty discounts are valid on all sale trips, so repeat customers can get even further savings.
Travelers who book and make a deposit between 15 March and 12 April will get 15% off all trips (excluding Antarctica and Tightarse Trips). The discount applies to all trips departing by 31 August 2013.
For more information please contact the sales team on 1300 791 478. Request the new-look Geckos brochure at
www.geckosadventures.com
About Geckos Adventures
When it comes to travel, we'll throw you straight in the deep end: Eat weird food, ride public transport and stay at locally run places.
We'll still take you to the 'must-see' sites, but we'll mix it up with unique experiences that aren't found in any guidebook. You'll also have plenty of time to do your own thing.
Our average group has 9 people and our maximum is 16 (22 on some of our Africa trips). Most of our travelers are aged between 18 and 35 but the oldest so far was a 79-year-old dude named Lars, and he was awesome, so go figure.