Freedomsoft 4 Real Estate Content Management System Free Test Drive Today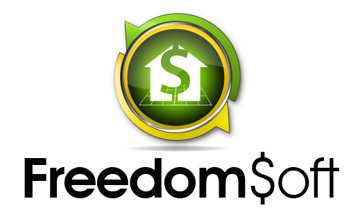 Freedomsoft 4 the Ultimate in Real Estate Content Management Systems
Freedomsoft, an online application that's has developed into a thriving, active community that advocates, monitors and evaluates real estate investment opportunities. Recently it was announced that they would be upgrading the Freedomsoft system to the 4th version called Freedomsoft 4.
Take a look at it here.
Freedomsoft 4 provides a opportunity for investors to take advantage of an ingenious piece of software that allows a user to make sensational sales in the real estate market, even without having any prior knowledge in real estate! Despite the aggressive earning potential that Freedomsoft 4 provides, it is a remarkably easy to use software, with even amateurs making as much as $150,000 in just a few months of using the program, after learning it on their own.
FreedomSoft 4 includes a number of improvements over the previous version such as.
Updated Cash Buyers Search, to make it easier to find cash buyers who have bought property in a given area. This now has more detailed information about the cash buyers.
Updated Daily Seller Leads Search, to make it easier to find seller leads – there will be a daily updated list of motivated sellers.
Simple contract generator, to make sure that business forms are easier to fill out.
Facebook integration so users can connect Freedomsoft to their Facebook profiles.
Enhanced comps and comparable's property page.
…and more
Take a look here to see the full list of features.
Freedomsoft keeps you organized with all your seller and buyer prospects, pulls comps, and demonstrates to you where the cash buyers are buying. It also offers you 7 free websites to draw in buyers, private money lenders, & sellers. You would be hard pressed to find any other software that does all that, trust me I've looked.
According to Wayne Woodson who has extensive knowledge of the program, "Freedomsoft 4 something any serious real estate investor should have and use."
Even with all these updated features it is easy to forget that neither Freedomsoft nor any other software will make you money unless you take action. Freedomsoft is simply an application to help your real estate business run more smoothly.
For a limited time they have a free test drive available here.