Midwest Fit Club Awarded for Business Excellence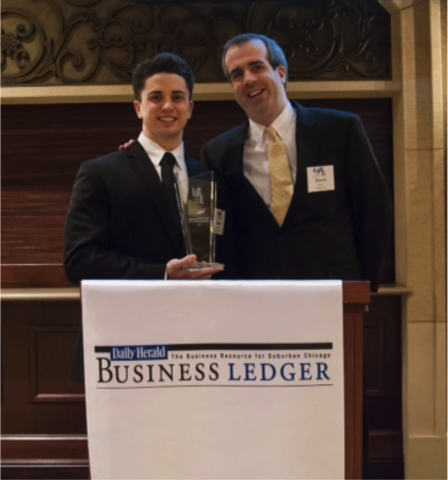 (Naperville, IL) March 19, 2013 - Midwest Fit Club is pleased to announce it was selected to receive the Annual Award for Business Excellence by the Daily Herald Business Ledger. The AABEs recognize outstanding business achievement, growth and community involvement among Chicago suburban business professionals. Awards were presented at the 23rd Annual Award for Business Excellence ceremony on March 13th at Medinah Banquets in Addison, IL.
Midwest Fit Club was honored in the Small Company category. Midwest Fit Club took over the facility in 2011 and the staff was able to completely transform the gym in 24 hours. Members were retained seamlessly – not even informed of any changes made to the facility. Members of MFC can now take advantage of upgraded features including a private spa room, new fitness equipment, and a multitude of fitness classes including Zumba and Yoga.
"It's a great honor to receive this award," said Steve Arch, Co-Founder of Midwest Fit Club. "It validates the hard work we are doing and honors the efforts of our employees to make this a great gym. Our gratitude also goes out to all of our members who have helped create a very comfortable and inviting atmosphere at MFC."
Awards were presented to twenty companies and not-for-profit organizations with a significant presence in the suburban circulation area of the Daily Herald Business Ledger. Former Illinois Speaker of the House of Representatives Lee Daniels was the keynote speaker for the AABE evening event. The recipient companies and organizations will be featured in a special section of the April 15th issue of the Daily Herald Business Ledger.
About Midwest Fit Club
Midwest Fit Club's professional fitness staff offers clients a wealth of knowledge and experience obtained through formal education, certification programs, and practical applications. MFC fitness staff members are all professionals and have years of training experience. Midwest Fit Club's fitness staff prides themselves on staying well informed on fundamental and cutting edge health and fitness related information.
Email JJR Marketing Consultants LLC