Weber's Restaurant Brings Casual Dining to the Habitat Lounge With a New Supper Menu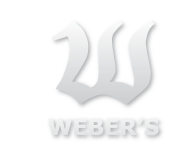 ANN ARBOR, Mich. – March 23, 2013 – Enjoy a new supper menu now available from 5-9:30 p.m. at the Habitat Lounge at the Weber's Inn
restaurant in Ann Arbor
, Mich. The High Speed Inn Menu, named to honor Herman Weber's first restaurant founded 76 years ago, features casual and tasty eats perfect for a relaxed evening out with friends.
Start with the made-fresh-to-order guacamole and chips, the Clams Casino, and flash-fried calamari with scallion aioli. Get a taste of the seaside with oysters, served East- or West-Coast style, and tempura-fried shrimp rolls. Fresh salads, classically delicious sandwiches and hamburgers, and pizza are all available.
Looking for more substantial fare? The casual supper menu features Weber's famous Prime Rib, and other classics such as fettuccine Alfredo, fish and chips, pan-fried Michigan trout, and authentic tacos served with pico de gallo and salsa verde.
"The Habitat has been the place at Weber's restaurant for relaxed casual eating and drinking," said Ken Weber, owner of Weber's Inn and Restaurant. "It is an alternative to the full dinner service people expect from Weber's restaurant. This new supper menu will give our customers reason to eat at Weber's when they crave simpler meals."
The Habitat Lounge at Weber's is the best spot for
Ann Arbor nightlife
, entertainment and drinks. There's live entertainment six nights a week, including live jazz on Sundays and a D.J. on Mondays. The Habitat Lounge also features a convenient location with plentiful and easy parking.
The High Speed Inn Menu is perfect for the times you want unique options and expanded variety. To enjoy a meal featuring the same great quality and taste as Weber's Restaurant, come to The Habitat Lounge to enjoy a casual dining experience in a world-class nightlife environment.
About Weber's Inn
Weber's Inn is an upscale
Ann Arbor hotel
. One of the top Michigan hotels, Weber's is a deluxe, full-service hotel, Ann Arbor restaurant, and banquet and conference property. Founded in 1937 by Herman Weber, Weber's is still owned and operated by the Weber family and committed to guest satisfaction. The boutique hotel also offers fine dining at the nationally famous Weber's restaurant and world class nightlife at The Habitat Lounge.
Email Ingenex Digital Marketing