CEO of GreenRope Nominated as Finalist in Top IT Executive Awards For Innovation in Software Development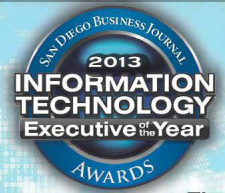 San Diego – March 26, 2013 –
Lars Helgeson, CEO and Founder of GreenRope, the world's first business operating system, has been selected as a finalist for the San Diego Business Journal's 6th Annual Top IT Executive Awards to be held in April.
"There are so many talented and innovative IT executives in our San Diego community, and to be selected as a finalist is both humbling and exciting. No matter who takes the cake, I am proud to be part of such a progressive tech community," expresses Lars Helgeson, when asked about the honor.
Every year, the San Diego Business Journal awards a Top IT Exec in six different categories including, Public Company, Private Company, Non-profit organization, Non-profit Business, Government Agency, and Education. Lars is nominated for the award in the Private Business category as the CEO of GreenRope.
"Lars is the key innovator (of GR). He conceived GreenRope and took it beyond the scope of the typical CRM software. We have previously worked with four different competitive CRM software programs, and hands-down Lars has built the most innovative and responsive program. He continues to create and diversify GreenRope - staying steps ahead of the needs of its clients and the marketplace," Sue Prelozni of Sustainable Surplus Development explains.
The San Diego Business Journal's award night is to be held on Thursday, April 4th, at the Reuben H. Fleet Science Center. GreenRope looks forward to attending, and witnessing all of San Diego Top IT executives being rewarded for their contribution to not only our community, but to the Tech community en masse.
About GreenRope
Lars Helgeson, who saw the need to make running a small to mid-sized business easier and more efficient, founded GreenRope. GreenRope's mission is to resolve the challenges of managing business operations by providing cloud-based integrated software that is effective, affordable, and user friendly. GreenRope streamlines key operations, including e-commerce and accounting, CRM, email marketing, mobile marketing, calendaring, websites, social media and more, into one easy-to-use platform. By using GreenRope, companies can reduce their marketing and CRM software expenses by an estimated 80%. GreenRope's affordable pricing plans start as low as $99/month. Visit
www.greenrope.com
for more information.