Total Health Physical Medicine and Rehabilitation Center Offers State of the Art Deep Tissue Laser Therapy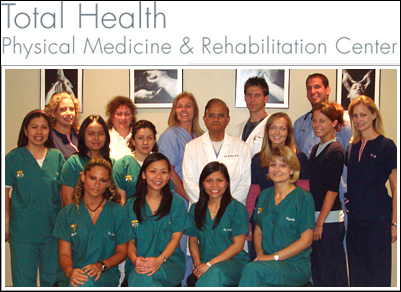 Total Health offers patients alternative approaches in pain management for a number of different conditions. The success at their
pain management clinic in NJ
is the result of using state-of-the-art equipment and facilities coupled with the finest pain management doctors in NJ to bring patients relief, even when they have been unsuccessful when using other treatment options. Now, Total Health offers Deep Tissue Laser Therapy as an option that provides advanced pain relief and also speeds healing time through a process known as photobiostimulation. Using a deep, penetrating light applied to the affected area, inflammation and pain are reduced and circulation increased to enhance the healing process of a wide range of conditions. Because cells are sensitive to light, the stimulation produced by the laser increases cell regeneration.
Total Health offers pain management that is non-invasive, or doesn't involve surgery. Deep Tissue Laser Therapy offers immediate reduction of swelling and accelerated tissue growth and cell repair without the need to heal from the treatment as is the case with invasive treatments. While there are many similarities between this type of treatment and massage therapy, the biggest benefit to deep tissue Laser therapy is the speed with which it works. It also allows for greater concentration on the areas where pain occurs. Deep Tissue Laser Therapy is an option for many patients seeking
New Jersey pain management
for chronic pain, muscle tension or spasms, limited mobility, fibromyalgia, injuries, osteoarthritis, carpal tunnel syndrome and more.
Total Health pain management clinic in NJ offers a wide range of non-invasive, drug-free alternative treatments for pain management including biodensity, chiropractic care, cold laser deep tissue laser therapy and more. Treatments are available for knee, ankle, leg and hip pain, back, shoulder and neck pain, sciatica, carpal tunnel, arthritis, injuries from car accidents, back pain and more.
Company Information:
Total Health employs caring, highly skilled clinicians with great integrity and excellent communications skills to provide their clients with the most innovative treatments for
pain management in New Jersey
. Their mission is to provide patients with the finest, most advanced and effective treatments available to each patient. They work to help eliminate pain and limitations that patients are suffering from in order to enjoy fuller, higher quality lives. For more detail please visit,
www.nopainmed.com
.
Email Total Health Physical Medicine & Rehabilitation Center