Ballet in Cleveland Hosts Children's Audition for Ballets with a Twist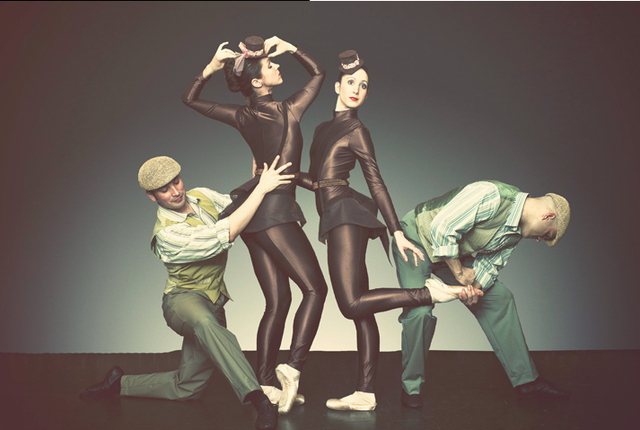 New York City's
Ballets with a Twist
seeks children ages 6 to 9 with good ballet technique to participate in both rehearsals and performances with the company. Ballet in Cleveland will host an audition on Sunday, April 14th, 2013 at The Movement Factory in Lakewood, Ohio. Selected dancers will join Ballets with a Twist for its debut performance at the Ohio Theatre at PlayhouseSquare on Thursday, September 19, 2013.
Audition registration will begin at 10:00 am at
The Movement Factory
(13000 Athens Avenue #203, Lakewood, Ohio 44107). The audition will begin at 11:00 am and end at 12:30 pm. Casting will be announced immediately after. Selected dancers will be asked to return at 2:00 pm for their first rehearsal session.
Those auditioning must demonstrate an ability to learn choreography in a professional setting. Auditionees must also be available for the rehearsal session following the audition, and two additional rehearsals during the week of the performance. No exceptions will be made to this availability. Specific details about the fall rehearsals and performance will be provided on the day of the audition.
For more information on this exciting opportunity, please visit
Ballet in Cleveland
, call Jessica Wallis at 330-285-5779, or send an email to
jessica@balletincleveland.org
.
About Ballet in Cleveland
Ballet in Cleveland's mission is to revitalize the presence of classical ballet in Cleveland, Ohio by presenting the highest quality professional ballet companies as well as promoting the art through ballet-centered programming and events that not only foster interest, but also educate and entertain the community. Ballet in Cleveland will highlight the importance, relevance, and entertaining artistry of professional classical ballet in the region.
About Ballets with a Twist
New York City's next-generation dance company, Ballets with a Twist, is taking the states by storm with its glamorous mix of critically-acclaimed choreography, outstanding original music, and exquisite costume design. Under the direction of celebrated dance-maker Marilyn Klaus - whose eclectic background ranges from vaudeville and show dancing, to Isadora Duncan and classical ballet - the company serves up classical ballet with an irreverent pop sensibility, inventing a new genre of artistic entertainment.
Cocktail Hour is a sassy, family-friendly suite of dances that brings iconic American drinks to life. The show both reinvents ballet and pays respect to the rich creativity of cocktail culture, launching the Martini, Gimlet, Shirley Temple, and more off the menu and onto the stage.
Critics and audience members agree: Cocktail Hour is an artistically seductive must-see. The New York Times praises Klaus' choreography as "witty and fantastic," while The Huffington Post raves that the company is "blasting the boundaries between high art and entertainment. We have seen the future of dance, and it is fun!"
About The Movement Factory
Alyssa Lee Wilmot created and founded The Movement Factory (
http://TheMovementFactory.com
) to help individuals create and lead healthy and expressive lives through various forms of movement. The Movement Factory aims to help people become stronger, healthier, and more connected to their bodies through the commitment to innovative and fun group and individualized Pilates, Dance, and Fitness for adults.
Ballet in Cleveland extends special thanks to The Movement Factory for graciously sponsoring this audition.
Contact
To learn more about this event, please contact
Email Ballet in Cleveland