PromoCode4Share.com Reveals U.S. Consumers Set to Spend Over $15 Billion on Easter Candy This Year Alone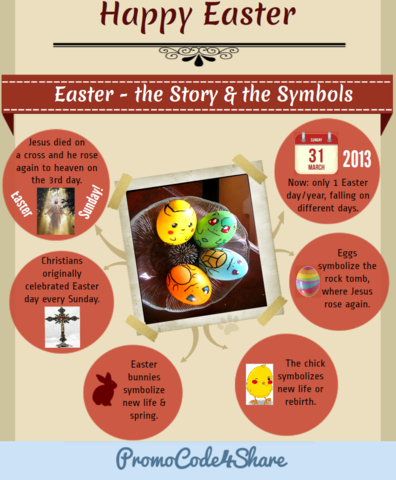 Los Angeles, California (March 29, 2013) – PromoCode4Share.com has released an infographic detailing obscure facts about the Easter Holiday, which falls on Sunday, March 31. The numbers are staggering. In 2012 alone, U.S. consumers spent $16.8 billion on Easter items equaling out to $145 per household. If those numbers aren't staggering enough, U.S. manufacturers produce an unbelievable 700 million Marshmallow Peeps and 90 million chocolate bunnies each Easter season.
Phuong Tran, spokesperson for
PromoCode4Share.com
stated, "Easter is a great holiday. We just wanted to share some fun and amazing facts with people out there so they could share them with their friends and family. One of the most interesting facts we discovered was it used to take 27 hours to make a Marshmallow Peep back in 1953, and now it only takes 6 minutes. Technology and manufacturing has come so far."
Among the other interesting facts and information the Easter infographic displays is:
Christians originally celebrated Easter every week
Eggs symbolize the stone that covered Jesus' grave
Easter bunnies symbolize Spring and new life
Easter chicks represent rebirth
Candy companies produce 16 million jelly beans
76% of people eat the ears off the chocolate bunny first
Some of the more bizarre facts include the story of the 27-foot Easter egg and the 6,050 LB jelly bean jar.
To view the infographic and share it with friends, go to
http://promocode4share.com/blog/
About PromoCode4Share.com
PromoCode4Share is a subsidiary of MegaAds Ltd. Along with price comparisons and product ratings, the site helps consumers save money by finding the best available offers from a network of thousands of online stores. PromoCode4Share works directly with retailers and affiliates to bring the best deals, coupon codes, and discounts that save time and money. The site also has product reviews, tips, fun facts, and
weekly giveaways
for all visitors. "Liking"
Promocode4share Facebook
ensures delivery of the latest promo codes and giveaways.