Mcs Austin Reaches 10 Years And Over 800 Installations Of Mosquito Control And Mist Cooling Systems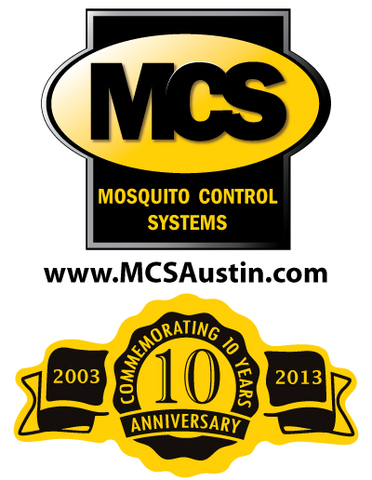 Austin, TX (March 30, 2013) - MCS Austin has reached the milestone of over 800 installations of mosquito control systems and mist cooling systems. Additionally, MCS Austin is celebrating 10 years of service to the Austin area in 2013.
"We have grown because of our emphasis on customer service" said Thomas Best, General Manager of Mosquito Control Systems, LLC. "We tend to serve the high-end client and they expect trouble-free products and prompt, professional service."
MCS Austin's automated outdoor insect control system is typically installed in backyards and comes with a guarantee to reduce 90% of mosquitoes and other flying insects. The proprietary system consists of a 55 gallon tank which acts as a reservoir, with a pump and motor and a control box which houses the timer and duration control. This is connected to a series of nozzles using high-grade thin nylon tubing. Because every home and its landscaping is different MCS Austin custom designs the system to place nozzles that target insect breeding and harborage sites.
The MCS Austin mist cooling systems are high pressure water misting systems that come with and without fans depending on the type of installation. These are typically installed on decks, verandas, and patios of residences and businesses and can reduce temperatures by 5, 10 or 15 degrees Fahrenheit. MCS Austin's commercial mist cooling systems have dozens of installations in restaurant patios in the Austin area. "Our commercial clients tell us that our mist cooling systems typically pay for themselves in just a couple weeks, due to increased usage of outdoor areas by their customers," said Thomas Best. In 2012 MCS Austin began selling portable mist cooling systems as well.
MCS Austin offers custom designs for each installation. This year they are also announcing at white label program for the resale of the system. The support for architects, customer builders and commercial installations includes custom designs for each project during the design phase of a property and installation and service afterward.
MCS Austin was the first automated insect control system provider in the Austin area and continues to provide cutting edge Mosquito Control and Mist Cooling products and services to the Central Texas area's finest homes. To find out more, please visit
www.MCSAustin.com
or email
info@mcsaustin.com
.
Contact:
Thomas Best
info@mcsaustin.com
www.MCSAustin.com
(512) 844-8498
Twitter @mcsaustin
Facebook.com/MCSAustin
Email MCS Austin, Mosquito Control and Mist Cooling