Leading Dorm Room Bedding Retailer Decor 2 Ur Door Releases Exciting 2013 Dorm Room Bedding Collections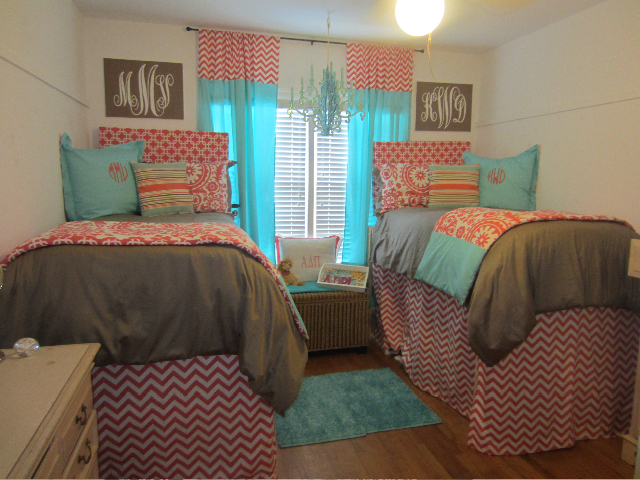 Décor 2 Ur Door
- the nation's leading Décor 2 Ur Door dorm room bedding online retailer - is poised for another stellar college dorm season after our exciting segment feature on Good Morning America last summer. Décor 2 Ur Door did an impromptu makeover on a triple dorm room in the great state of Missouri complete with furniture, bedding, wall art and much more!! Check out what Décor 2 Ur Door can do for you.
Coming off our most successful year, with over 2000 satisfied customers, D2D will work with you to create your unique and personalized home away from home. We offer custom dorm duvets T/TXL, Egyptian cotton sheets banded in coordinating fabrics, custom shams and pillows, extended bed skirts, custom closets and window panels as well as custom chair covers and headboards.
Our exclusive Décor 2 Ur Door sorority bedding line showcases 13 national sororities and allows girls to show off their Greek pride in style. Décor 2 Ur Door also offers trendy college spirit bedding in school colors. Our Lilly Pulitzer inspired custom bedding collections are perfect for girls who prefer the preppy look. Pair your bedding with our Lilly Pulitzer gift line collection offering stylish matching storage containers and magnetic boards.
Décor 2 Ur Door offers designer Décor 2 Ur Door custom dorm room bedding sets or you can be creative and select your favorite colors and coordinating accessories to fit your new lifestyle. We will work within your budget to tailor your dorm room and make feel like you never left home!
Visit
www.decor-2-ur-door.com
and choose from a wide array of pre-designed, prepackaged dorm rooms or customize a dorm room based on your individual tastes and preferences. Décor 2 Ur Door has everything you need to create a special room your daughter will always remember and a beautiful space to call home.