AMS Vans Energizes for "Run, Walk 'n' Roll" To Help FODAC Assist People with Disabilities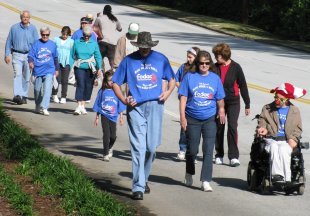 Here's how individuals with disabilities get the mobility equipment they need-but can't afford-and you can help.
You're invited to
Run, Walk 'n' Roll
with Team AMS Vans on May 4, 2013 at Stone Mountain Park in Atlanta, GA. This year, our team goal is $2,500. You can also build a team of your own to help raise funds for Friends of Disabled Adults and Children (FODAC). This worthy organization helps adults and children with disabilities through the distribution of walkers, canes, wheelchairs, and other mobility equipment, including
wheelchair vans.
Race participants and those who attend will also have the opportunity to meet 24-year-old Aimee Copeland. Her tragic accident on a zip line not long ago made national news when she developed necrotic fasciitis, a flesh-eating bacteria, which led to several amputations and failure of five organs. Aimee's story and her spirit will be an inspiration to everyone at the event.
Team AMS Vans
will participate in the race and in the celebration surrounding the race that begins at Confederate Hall in Stone Mountain Park, where registration begins at 7AM. Among other surprises, the company will have an AMS side entry van parked in the lot adjacent to the starting point of the race. The doors will be open, the ramp will be deployed, a mobility consultant will be on hand for questions, and everyone is welcome to explore the comforts and convenience of an AMS handicap van.
"We participate in FODAC's Run, Walk 'n' Roll, because we want everyone with limited mobility to have the equipment they need to live as independent a life as possible," says AMS Vans' owner Kip Crum. "That concept is built into our business model, and our mission is to make wheelchair transportation genuinely affordable. The FODAC event lets us meet and help our customers in other ways, and, more than that, it's a whole lot of fun!"
Start your own team or donate to Team AMS Vans. AMS Vans is thankful for every dollar you donate to help family, friends, and neighbors who face limited mobility without the means to purchase necessary equipment.