New responsive consumer website for Allan Brothers' timber windows and doors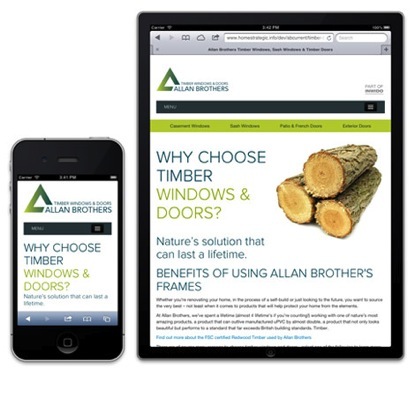 Homeowners and
self-build
enthusiasts looking to add
sustainable timber windows
and doors to their properties can now browse the new Allan Brothers website on their mobile and tablet devices.
Allan Brothers' new consumer focussed, responsive website has been developed to provide a simple, intuitive user experience for their customers, regardless of the device and screen resolution used to browse the website.
Danny Hughes, managing director of Allan Brothers said, "Getting our user experience right for customers was paramount. The main objective of the new website was to ensure customers can find what they are looking for quickly and easily regardless of whether they are viewing on a mobile phone or a desktop PC."
He went on to add: "With over 25% of our visits from mobile devices we just couldn't ignore this growing requirement."
The website structure was also simplified to present a more logical navigational experience for site users. Initial results show that the changes have had a positive impact with an increase in the first month's enquiries of over 90% on the previous month.
To see the new responsive website and how it works across your devices visit
www.allanbrothers.co.uk
.