Cooking-Culinary-Arts-Schools.org Hits Over 20,000 Likes on Facebook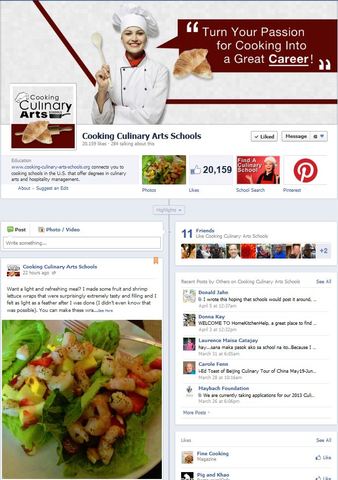 Cooking-Culinary-Arts-Schools.org, a directory website that assists individuals with finding top cooking schools for programs in culinary and hospitality management, recently hit a milestone with over 20,000 Likes on their Facebook fan page.
Since launching their social media engagement campaign last year, the Facebook page has been a central hub of activity for the brand to help them reach potential culinary arts students, provide support to current students, and talk with others who share a passion for cooking. From sharing recipes and cooking tips to posting pictures of delicious-looking food and cool cooking gadgets to get people talking, the Fan Page has been a fun and engaging platform and served as an additional resource to the
website
and
blog
.
"It has been very exciting watching our online community grow over the past year," said Nancy Lambert, Vice President of Xcellimark, the Interactive Digital Agency overseeing the online marketing for Cooking Culinary Arts Schools. "We look forward to getting even more Likes by staying connected to our audience, becoming more of a resource and continuing to fine tune our marketing efforts by catering to their needs."
One way Cooking-Culinary-Arts-Schools.org is serving as a resource to their online community is by working with a third-party contributor who will be sharing delicious and healthy recipes on Facebook for individuals with sensitive digestive tracks, food allergies or who simply want to change their lifestyle by cooking and eating healthier foods.
To join the conversation, meet other "foodies" online, and learn more about healthy cooking, visit
https://www.facebook.com/CookingCulinaryArtsSchools
and click the "Like" button. You can also join in the fun through Google+ at
https://plus.google.com/105570012214287497983/posts
About Cooking Culinary Arts Schools
Cooking-Culinary-Arts-Schools.org is a comprehensive directory of chef schools, cooking schools, hospitality management schools, and online education resources and opportunities primarily geared towards individuals interested in turning their passion for cooking and hospitality into a career and obtaining better job opportunities in the culinary arts or hospitality field.
Email Cooking Culinary Arts Schools