Atlantis Hydroponics is Doing a Bi-Weekly Giveaway on Facebook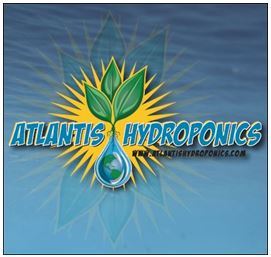 Hydroponics is the science of growing plants without soil. Hydroponic grow systems let plants absorb nutrients through water, allowing for growth of more plants and a higher yield production than can be obtained with a traditional garden. Atlantis has been a leading resource of related information and hydroponic supplies since opening their doors in 1998. They offer the best products to their customers who are interested in growing a self-sustained garden, and now they are providing their customers with the chance to win products when they Like their page on Facebook and enter the bi-weekly giveaway. It's a great opportunity to learn more about how
hydroponic systems
work and to try some of their products for free!
Atlantis has always been dedicated to making hydroponics the future of horticulture. In addition to their availability of equipment and the information they provide to their customers, they also play a large in teaching earth-friendly practices to the community. They strive to increase awareness of practical, environmentally conscious growing methods and make the products available that will help to yield the best results. With their bi-weekly giveaway, they give you even greater incentive to visit their Facebook site and learn what they have been doing to teach others about Botanicare and to share with you the methods and tools for getting the best results while using an environmentally conscious method of gardening.
Atlantis Hydroponics™ has everything you need to create a successful self-contained growing system and a lot more. Their inventory includes a wide variety of grow lights and accessories for growing the plants and the specific conditions that you want. They also have complete growing kits, hydroponic and aquaponics systems, grow room tents, soil and growing media, fertilizers, supplements, irrigation and water conditioning products and much more. Atlantis offers a complete growing experience with the opportunity to learn more and win some great prizes simply by becoming a part of their community on Facebook.
About Atlantis Hydroponics
Since 1998,
Atlantis Hydroponics
has been working to make self-sustaining gardening an integral part of people's homes and community. They are dedicated to the research, development, manufacturing and marketing of gardening goods and consumables to the general public. While they continue to provide information that will help to educate people about environmentally conscious products, they also use the necessary tests to ensure that each product they offer is of the highest quality and reliability. For additional information please visit,
www.atlantishydroponics.com
.
Email Atlantis Hydroponics