Miami Beach Hotel Gets Upgrade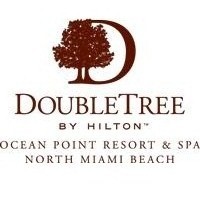 The luxurious DoubleTree by Hilton Ocean Point Resort & Spa will soon receive a facelift, becoming more impressive than ever before.
In June, this exquisite destination will undergo a beautiful transformation, namely in the mezzanine function area. Planned renovations include expanding the social function space, new and vibrant carpeting, handsome wall coverings and artwork, gorgeous lighting fixtures and a fresh overall color scheme. The newly-designed mezzanine function area will brighten and enhance the guest experience, working well to complement both the exciting scenery surrounding DoubleTree by Hilton Ocean Point Resort & Spa and its extraordinary staff.
The soon-to-be-revamped mezzanine function area, scheduled to be completed by June 22nd, and its adjoining veranda inside of this spectacular
Miami Beach hotel
, will be ideal for any special event. Be it a rehearsal dinner, wedding ceremony or reception, each moment shared will be nothing short of unforgettable. Couples will appreciate the myriad of options available for their dream event.
Upon booking their
destination wedding in Miami
, the bride- and groom-to-be have the option to set up a customized event webpage-the ultimate way to share special details with all invited guests. DoubleTree by Hilton Ocean Point Resort & Spa's team of wedding planners will then get to work, coordinating each detail of the event, from reserving blocks of guest rooms, recommending local DJs and managing the guest list to providing table linen options, arranging flowers and more. The dedicated catering team will lend their expertise to the menu selection process and assist in the choice between a formal sit-down dinner and casual cocktail party.
Each event is executed flawlessly from beginning to end. Even as attendees arrive to check in prior to the festivities, each is greeted with a soft and indulgent signature DoubleTree chocolate chip cookie as DoubleTree by Hilton Ocean Point Resort & Spa's way of saying "Welcome." Wedding crews will ensure that each moment throughout the duration of the wedding, from "I do" to "Goodnight," meets with expectations by providing stellar service.
When the merriment winds down, newlyweds may escape to a world-class Honeymoon Suite and guests will enjoy a restful night's sleep courtesy of the Sweet Dreams® by DoubleTree Sleep Experience. Each guest room boasts irresistible views overlooking the beach and ocean and includes at least one cozy pillow-top bed, complete with high-thread count linens and lovely bedcovers. Rooms also include a stunning HD flat screen TV, mini-refrigerator and microwave for additional convenience.
DoubleTree by Hilton Ocean Point Resort & Spa is a destination resort where guests are pampered by massages and other spa services. Located on a breathtaking stretch of North Miami Beach, guests can enjoy an exciting day of swimming, surfing, jet skiing and kayaking in the Atlantic Ocean or a culturally-enriching experience at one of Miami's museums and aquariums. Contact DoubleTree by Hilton Ocean Point Resort & Spa to book your next event today!
Email DoubleTree by Hilton Ocean Point Resort & Spa