California Apologist Travels to Help Hurting Soldiers Stationed Far from Home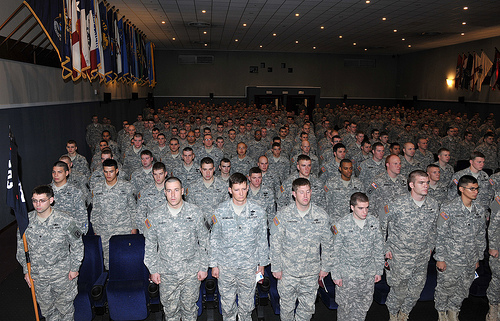 (Riverside, CA) Needing a voice of comfort and clear thinking on the struggles they face in active service, military personnel and their families stationed in Northern Italy will have a chance to hear a life-changing message of hope—free of charge. Come Reason Ministries (
http://www.comereason.org)
has announced the "A Reason for Hope" outreach, beginning May 22 at the United States Army Garrison in Vicenza, Italy. The two-day event will feature four talks by California speaker and apologist Lenny Esposito.
Army Chaplain Lt. Col. Scott Hammond expressed his excitement for the unique opportunity to have a prominent apologist address an active garrison of over 9,000 service members, civilian employees, and families that make up the Vicenza community. "Belief in God matters. It grounds people and helps them deal with the most difficult situations of life. To be able to hear a thoughtful case for the reality of God, the reality of a Redeemer that can carry them through the darkest times of life, that can be a game changer. It can save lives."
Esposito's talks will each focus on a different topic. Message titles include "Is Morality Relative or Absolute?", "How to Know God Exists", "Creation versus Evolution: What are the Facts?" and "How Could a Loving God Allow Evil in the World?" The chaplaincy will provide lunch or dinner for free to all who attend.
"Given the devastating impact the conflicts in Iraq or Afghanistan have had on this community, I really want to let these soldiers know that there is a purpose to life, and that good and evil are real, objective values worth fighting for" said Esposito. "With so many young people here who wrestle with the life and death decisions that war brings, they need something more concrete than the moral relativism that permeates our culture."
As one of the staging areas for troops heading to conflicts in the Middle East, the Vicenza garrison has been hit particularly hard, from losing soldiers as casualties of war, to those suffering from the debilitating effects of post-traumatic stress disorder, and even to incidents of suicide. Col. Hammond said that a firm faith and strong moral framework can greatly help in preventing further suffering. "Hope is fundamental to our well-being. We want to restore true hope for those who place their lives on the line for our country."
The "A Reason for Hope" Military Outreach will be held May 22 and 23, 2013 at the Vicenza Military Community Chapel, USAG Vicenza. Talks are scheduled for 11:30AM and 6:00PM each day. Admission is free and lunch and dinners will be provided to all attendees at no additional cost. For more information, please contact the Chapel Office at DSN 634-7519 or 0444-71-7519. Further descriptions for the event may be found at
www.comereason.org
.
About Come Reason Ministries
Riverside, CA-based Come Reason Ministries was created to help provide answers to difficult biblical, ethical, and philosophical questions. The organization was founded in 1996 and now reaches over 300,000 people yearly around the world with a top-rated podcast, a monthly e-newsletter, live instruction and speaking engagements.
For more information about Come Reason Ministries, "A Reason for Hope", or other events, contact Lenny Esposito, President, at 866-957-3276 or e-mail at
Lenny@comereason.org
Email Come Reason Ministries