Custom-Mats by Gallant Unveils New MLB Designs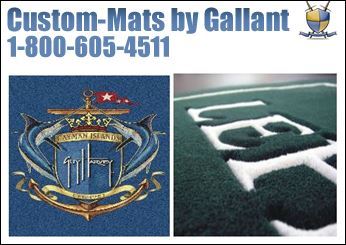 ORLANDO, FL
- Custom-Mats by Gallant, a leading online retailer of mats and rugs, is pleased to announce the availability of new MLB designs featured on high-quality mat products. New designs for April include the logos of top teams in Major League Baseball, including the Washington Nationals, the Cleveland Indians, the Colorado Rockies and the Arizona Diamond Backs.
Each of the new MLB designs from Custom-Mats by Gallant are official spirit rugs, constructed of soft but durable nylon and outfitted with a safe, non-slip back. They nylon used to construct the
logo rugs
is 100% certified Stainmaster, and each rug offered by the company is officially licensed by the MLB. The high-quality materials used to construct the new MLB mats make them functional for indoor or outdoor usage.
The spirit rugs offered by Custom-Mats come in a variety of sizes, from small mats, to large area rugs, making them suited for a variety of unique purposes. From outdoor mats, to mats for children's playrooms, the new MLB collection is highly versatile. Other purposes for the rugs include use in "man caves" and even mats that are perfect for tailgating and other similar outdoor activities.
"Our sports-themed mats are one of our most popular products, and we're excited to expand our offerings for our customers that are baseball fans," said a representative from Custom-Mats by Gallant. "Spring is the start of baseball season, which makes it an ideal time for us to unveil this new collection."
The MLB mats arrived just in time for the start of baseball season, which opened on March 31 and continues through September.
In addition to MLB mats, Custom-Mats by Gallant offers officially licensed mats for a number of other professional sports leagues, including the NBA, NHL and NFL.
As well as sports-themed mats, the online retailer also offers decorative mats and
area rugs
, and mats for use at point-of-sale stations. The company has become the premier online source for mats and rugs because not only are products extremely high quality and stylish, but the company also offers the lowest prices of any similar product.
About Custom-Mats by Gallant
Custom-Mats by Gallant is an online retailer of rugs and mats, which is owned by Gallant Inc. The Orlando-based company features a range of products, including anti-fatigue rugs, Anji mountain rugs and Jaipur rugs. The company can be reached by visiting the website at
http://custom-mats.com/
or calling 1-800-605-4511.
Email Custom-Mats by Gallant