National Express Bus Operator Places 3rd in Statewide Bus "Roadeo"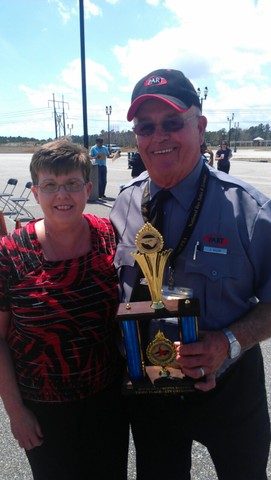 North Carolina's top transit drivers gathered in early April for the North Carolina Public Transportation Association's (NCPTA)/NCDOT Bus Roadeo in Wilmington, North Carolina.
Among those competing was Mr. JW Gilley, a National Express bus operator at the company's Piedmont Authority for Regional Transportation (PART) operation in Greensboro, North Carolina.
Mr. Gilley was one of over 70 public bus drivers who participated in this year's event. He has been operating PART vehicles for over a decade – he placed 3rd in the LTV Division.
The event, while recognizing the state's top operators and their skills, also emphasizes safety. This year, NCPTA/NCDOT provided workshop training on wheelchair securement, which will equip drivers with the needed training to secure passengers safely in wheelchairs while riding on buses.
NCPTA is a private, non-profit organization that promotes public transportation throughout the state, as noted on their website. (source:
http://www.nctransit.org/about.html
).
PART provides connections between major cities and counties in the Piedmont Triad. PART works in cooperation with the city bus systems of Winston-Salem Transit Authority (WSTA), Greensboro Transit Authority (GTA) and High Point Transit (Hi tran) that provide transportation access within the city limits. (source:
www.partnc.org
)
National Express Transit Services Corporation is the North American transit, paratransit, and shuttle operations division of National Express Group. National Express safely provides more than 700 million public transportation trips annually around the globe. For more information, please visit
www.nationalexpresstransit.com
.