Sharper Cards Now Offering Limited-Time Discount on Business Cards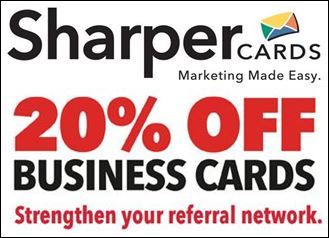 Calgary, AB
- Sharper Cards, a premier retailer of high-quality, personalized marketing materials, is announcing the opportunity for customers to receive a 20% discount on business card orders.
The special promotion is offered to customers who order any business card product. Customers can choose from a collection of Sharper Cards designs, custom design their own, or upload an existing design. The offer will expire on April 30, 2013, and in order to take advantage of this great opportunity, customers simply need to enter the promo code E413 when placing an order on
sharpercards.com
.
"We wanted to give our customers the opportunity to receive a discount on business cards, which are one of our most popular products, particularly as we head into spring," said Kodi Ritchie, Marketing Specialist for Sharper Cards. "We find that a lot of people like to freshen up their marketing materials with the change of seasons, and this 20% discount makes now a great time to do just that."
Sharper Cards makes the process of personalizing marketing materials simple and efficient. The company offers a library of free personalization options, including messages, logos, fonts, layouts and ink colors. Moreover, professional marketing consultants are available to provide advice and ideas for customers who need help with creating a perfect marketing campaign for their business.
About Sharper Cards
Sharper Cards provides industry leading marketing solutions for all types of businesses. The company is a one-stop shop for quality marketing products to help businesses achieve their goals and maintain a professional image. Sharper Cards was founded 28 years ago with the hope of facilitating smoother patient and client interaction. Through the years, they have helped thousands of practices and businesses improve their patient or client communication and marketing reach. For additional information please visit,
http://sharpercards.com/
.