The New Tansavatdi Cosmetic & Reconstructive Surgery Center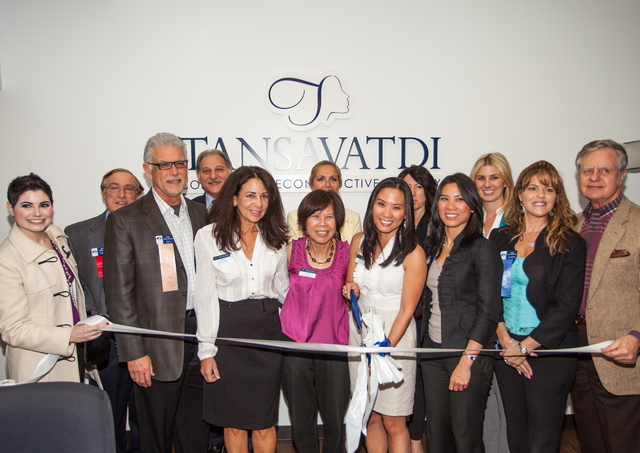 April 24, 2013 - On February 28, 2013, Dr. Tansavatdi, colleagues and friends held an open house to celebrate the new Tansavatdi Cosmetic & Reconstructive Surgery office near Thousand Oaks, California. More than 200 people attended the event, which included an assortment of food, wine and other beverages. Attendees enjoyed taking part in raffles for prizes worth more than $5,000.
Dr. Tansavatdi was delighted at the turnout and wanted to "…thank all of those who came out to support us, and we hope to hold other events like this in the future."
The new Tansavatdi Cosmetic & Reconstructive Surgery office is located in Westlake village, just outside of Thousand Oaks on the corner of Hampshire Road and Triunfo Canyon Road. Patients will find plenty of parking and can easily locate the office in suite 170.
Dr. Tansavatdi And The Expert Staff
Thousand Oaks surgeon Dr. Kristina Tansavatdi, M.D.
completed her fellowship in Cincinnati with renowned surgeon Dr. Devinder Mangat. Dr. Tansavatdi specializes in facial plastic surgery, with a focus on balancing and correcting features of the face, head and neck.
Dr. Tansavatdi was born and raised in Southern California. She received her B.A. from the University of California, Berkeley and earned her M.D. from Wake Forest University School of Medicine before successfully completing a residency at the University of Utah. She is a member in good standing of both the American Academy of Facial Plastic and Reconstructive Surgery (AAFPRS) and the American Academy of Otolaryngology – Head and Neck Surgery (AAO).
Facial Surgery Procedures
Patients can receive a variety of surgical facial procedures at Tansavatdi Cosmetic & Reconstructive Surgery. These procedures can be performed alone or in concert with other procedures, to achieve a more youthful look. The facial surgeries performed by Dr. Tansavatdi not only make patients look younger, but can also help build confidence, regain self-esteem and achieve a positive self-image.
Facelifts
Facelifts are among the most popular procedures offered by Dr. Tansavatdi. This procedure is designed to make patients appear up to 10 years younger by reducing and often eliminating sagging skin and wrinkles. Men and women alike can benefit from the long-lasting results of this procedure. The facelift is also ideal for those patients who use dermal fillers and injectables, which provide only temporary results, yet are interested in a procedure that will provide a far more permanent solution.
Eyelid Surgery
Eyelid surgery, also known as Blepharoplasty, is a minimally invasive cosmetic procedure that can create dramatic changes to the appearance of the eyes, and help improve the general appearance of the face as a whole. Eyelid surgery does not only "remove" excess fat and skin, but also serves to rejuvenate the skin of the upper and lower eyelids. This very common procedure involves excess fat being removed as well as the repositioning and tightening of muscles from around the eye. This surgery is performed without visible scarring to ensure results that look natural and effortless.
Rhinoplasty
One of the most discernible features of any person's face is their nose, with many people unhappy with either its size or shape. Rhinoplasty is an effective procedure that is used to make a patient's nose proportional to his or her other facial features, and can results in major aesthetic improvements, with a relatively short procedure. It can also be used to remove irregularities such as nasal bumps, a crooked nasal bridge, asymmetrical appearance, or a deviated septum. This procedure is popular with patients who are unsatisfied with their current appearance, and want to invest in themselves, and make a positive change for the future.
Chin Augmentation
Chin augmentation is another popular procedure available at Tansavatdi Cosmetic & Reconstructive Surgery. This procedure can strengthen the facial profile for individuals with a slight under pronounced chin, and focuses on improving a patients overall facial balance. The synthetic implants used in chin augmentation surgery are safe and well tolerated by the overwhelming majority of patients. Although this is a common procedure for patients who are born with chin deficiencies, Dr. Tansavatdi also specializes in reconstructive surgery for patients who have suffered traumatic injuries to the chin.
Lip Augmentation
Although many patients are satisfied with temporary lip-augmentation fillers, others prefer a permanent solution available with the aid of lip implants. When these implants are inserted into the upper and lower lips, they provide a natural looking lift and volume. Alternatively, body fat can be removed from another area of the body to be used as a natural filler to ensure that the lips do not appear over filled or artificial. Dr. Tansavatdi can make recommendations on which option may work best but always strives to educate patients on the pros and cons of each type of surgery before a final decision is made.
Other Procedures
Dr. Tansavatdi specializes in several other surgical procedures, including eyelid lifts, brow lifts, neck lifts and otoplasty. The lift procedures tighten the skin and remove wrinkles, giving patients a smoother and more youthful appearance. Otoplasty is the medical term for ear-reshaping surgery. This procedure can assist in treating ears that are malformed or which protrude excessively from the sides of the head. A popular procedure among men and women, the eyelid lift is a favorite surgery for patients who experience puffy or sleepy looking eyes and want to regain a more natural and alert look.
More On Dr. Tansavatdi
Dr. Tansavatdi works to remain active in her community as well as maintaining the new and thriving medical office: Tansavatdi Cosmetic & Reconstructive Surgery. Dr. Tansavatdi has published in several highly respected trade journals; patients, fellow medical professionals and interested parties can read her work in periodicals and journals including Facial and Plastic Surgery, Advances in Facial Plastic Surgery, Cancer Management, and Research and Laryngoscope.
Customers First
Patients seeking
plastic surgery near Thousand Oaks
or Santa Barbara might be surprised to realize that the same procedures available in areas like Beverly Hills are available in their own backyard. The staff at Tansavatdi Cosmetic & Reconstructive Surgery Center are trained to provide customers with the highest quality of service available. Dr. Tansavatdi and her staff strive to provide each patient with the most professional and comfortable experience possible. If you are interested in contacting Dr. Tansavatdi, you can schedule an appointment by phone by calling 877-278-0280, or visit her practice at 696 Hampshire Road, Suite 170, Westlake Village, CA 91361.