CustomerGauge launches first Net Promoter survey in Arabic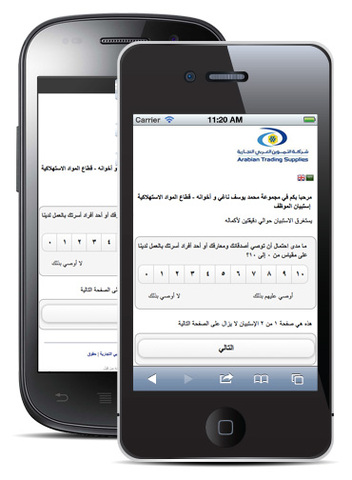 April 25, 2013, Jeddah
: The Saudi Arabia-based FMCG arm of Mohammed Y. Naghi & Brothers Group has become the first CustomerGauge client to use the platform to launch a Net Promoter® survey in Arabic.
The consumer goods to foodstuffs distribution business is using CustomerGauge's eNPS (employee Net Promoter) survey tool to survey more than 3,000 staff across its Middle Eastern markets. It chose CustomerGauge's eNPS tool due to its anonymous feedback and reporting functionalities that are built-in to protect the privacy of individual employees.
The eNPS surveys will be sent out twice a year by email (
including mobile-optimised email surveys
), SMS and a survey on the company website, and is the first step in a larger Net Promoter program that will see the business use the CustomerGauge platform to survey end customers in Arabic and English across the Middle East.
The announcement comes as CustomerGauge adds new language capabilities to both its surveys and its platform interface. Surveys can now be sent out in over thirty languages, and the CustomerGauge platform interface is available in English, German, Dutch, Spanish, French, and Chinese.
"The new Arabic capability brings CustomerGauge closer to our goal of being able to deliver surveys for any business in any language across markets and language barriers instantly," said Adam Dorrell, CEO, CustomerGauge. "With our platform already capable of delivering feedback across the organisation in real-time, the CustomerGauge platform can provide frictionless, borderless and continuous feedback to help organisations drive their customer experience forward."
About CustomerGauge
Developed by Amsterdam-based Directness, CustomerGauge is a leading loyalty measurement system that automatically measures customer satisfaction and feedback in real time. Because CustomerGauge already has all the pieces in place - end-to-end and fully integrated - a program can be up and running much faster than any comparable in-house program. Clients include Philips, Dulux, Vodafone, Canon, Melitta, SingleHop, Tommy Hilfiger and Electrolux.
http://customergauge.com/
Net Promoter® Score (NPS) is a customer loyalty metric developed by (and a registered trademark of) Fred Reichheld, Bain & Company, and Satmetrix.
Contact