New Wet Central Pharmaceutical Vacuum Captures Washdown Liquids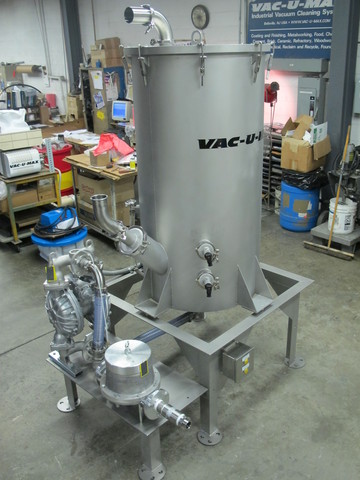 With National Prescription Drug Take-Back Day occurring this Saturday, April 27, it is an ideal time to look at what the pharmaceutical manufacturing industry is doing to alleviate the amount of PPCPs in the water supply; and, VAC-U-MAX is at the forefront of this movement with its announcement of the availability of a Wet Central
Pharmaceutical Vacuum
cleaner. "We are enthusiastic about this product line," says David Kennedy, GM of Vac-U-Max's Vacuum Cleaning Division. "We do a considerable amount of business in the pharmaceutical industry, and this Wet Central Vac for pharma washdown is a natural progression for us."
VAC-U-MAX, manufacturer of the first air powered industrial vacuum cleaner, provides field-proven industrial vacuum cleaning systems and innovative solutions for pharmaceutical industry, municipal facilities, government installations and environmental sites. The company's new Wet Central Vac for pharma washdown puts pharmaceutical and personal care manufacturers ahead of the curve to prevent possible pollutants from entering the water supply.
Currently there is no evidence of the effect of PPCPs in water supplies; however, the United States Environmental Protection Agency and the United States Geological Survey consider PPCPs "a significant emerging threat" to water quality and ecosystems. National Prescription Drug Take-Back Day promotes the safe and responsible means of disposal of prescription drugs for the general public. This campaign and proactive action by pharmaceutical and personal care manufacturers help reduce the amount of PPCPs in environment.
The Wet Central
Pharmaceutical Vacuum
system is designed specifically to assist pharmaceutical facilities comply with regulations that prohibit disposal of liquids containing active pharmaceutical ingredients (APIs) and non-regulated PPCPs into municipal wastewater sewer systems and municipal wastewater treatment plants (WWTP).
Vac-U-Max's new pharmaceutical liquid recovery system provides multiple hose connections located in pharma suites where tablets and liquid medications are produced. The liquid generated from the washdown process (containing the API and PPCPs) is vacuumed by operators into a sanitary tubing network and is then collected in the VAC-U-MAX Wet Separator.
The liquid is then separated from the airstream by a unique washable, corrosion-resistant filter media. The Wet Separator has an integral pump to transfer the solution to an in-house treatment system designed to address the APIs and PPCPs prior to discharge to the local municipal WWTP.
The Wet Central Pharmaceutical Vacuum system is made from the highest grade stainless available to the industry making it an ideal solution even when treatment processes include aggressive chemicals.
Depending on the treatment process, the liquid may also be suitable for re-use within the pharmaceutical facility via a closed looped treatment system. Other features of the VAC-U-MAX
industrial vacuum
system include a full controls package, liquid level sensors, sanitary construction, and secondary containment in the event of a release during maintenance or normal operations.
Responsible pharmaceutical and personal care product manufacturers are reducing the amount of PPCPs in public water supplies with the help of Wet Pharmaceutical Vacuum Systems that are integral in the fast clean up and treatment of in-house wastewater treatment.
For more information about VAC-U-MAX's new Central Wet Vac or another
Pharmaceutical Vacuum
application contact the company at 69 William Street, Belleville, New Jersey, 07109, call 1-800-VAC-U-MAX (800-822-8629), email
info@vac-u-max.com
or visit the website at
www.vac-u-max.com
.