Grand Baymen Continues to Expand as Owners Move Into Condos on Ambergris Caye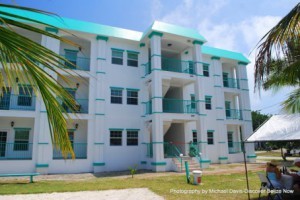 The distinctive island community of Grand Baymen is pleased to announce that their first group of
Ambergris Caye condos
are nearing full occupancy. After a successful grand opening celebration on March 22, 2013, the community has received a heavy volume of inquiries about the two condominiums that remain in Building A.
The community is rapidly preparing an adjacent parcel for the construction of a second residential building that promises to contain 16 one-bedroom condos with views of green space, palm trees and several with sunset views across the Bay of Chetumal. However, the new building will not be move-in ready for several months. Those who wish to secure their place in Grand Baymen's Building A have a very limited window in which to reserve one of the two remaining units.
Located on beautiful Ambergris Caye island off the northeastern coast of Belize, Grand Baymen is the product of collaboration between Grand Baymen CEO Michael Cobb as well as Grand Baymen President Eddie Littlefield and project construction manager John Morgan. The community sits on six landscaped acres that feature a range of tropical vegetation and lays just a short walk from the sparkling waters of the Caribbean.
The condo amenities include a three-tiered pool with a capacity of 250,000 gallons as well as a full-service fitness center, a tennis facility, sand volleyball courts and ample green space. Since its opening, Grand Baymen has positioned itself to offer premier Ambergris Caye real estate for North Americans who wish to
own an investment property
, seasonal home or full-time residence in an up-and-coming destination. The community has also attracted year-round residents who wish to retire or relocate to the beautiful shores of Ambergris Caye.
All of the one-bedroom and two-bedroom condominiums in Building A feature in-suite laundry appliances, full kitchens, spacious closets and open-air balconies. Grand Baymen's developers have received tremendous amounts of positive feedback from residents who have already moved in to their
Belize condo
and plan to incorporate their suggestions into the spacious new units of Building B.
About Grand Baymen
Grand Baymen was conceptualized and designed by ECI Development. The company is committed to creating sustainable, modern developments that offer a range of opportunities for residents from all walks of life. Its new Caribbean and Latin American properties, like Grand Baymen, offer luxurious tropical living at affordable price. For more information about Grand Baymen, visit
www.grandbaymen.com
or call the toll-free hotline at 1-800-959-6422