Hooman Toyota Celebrates Toyota Grand Prix of Long Beach with Sales and Test Drive Event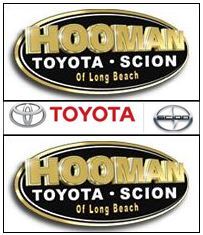 Long Beach, CA
- Trusted Toyota dealership, Hooman Toyota, has decided to celebrate the Toyota Grand Prix of Long Beach with an amazing sales and a fun test drive event. They want drivers to know what it's like to get behind the wheel of a Toyota.
If you're looking for a great spot to watch the race, Hooman Toyota is just four miles away from the race track. Besides their proximity to the event, they're also planning to run special sales to join in the festivities. Their promotions during the Toyota Grand Prix event will include an exciting test drive event, low APR, rebates, and even college graduation programs for first-time buyers.
The Toyota dealer will also be joined by some celebrities who will be racing their Scion FR-S models, and customers can get a similar experience by taking the same car for a test drive. The Scion model that will be gearing up on the racetrack includes some of the same modifications that Toyota fans can buy, including a 210 horsepower engine, an aftermarket exhaust system, and a suspension upgrade.
Hooman M. Nissani, President of Hooman Automotive, said of the car, "[The] Scion FR-S is one of the hottest cars on the market. It brings youth, fun and sporting to the Toyota brand. We are honored to be in the city of Grand Prix racing and to offer such wonderful cars."
The Hooman Toyota dealership is a trusted supplier of Toyota models like the Scion FR-S, Camry, Prius, Corolla, Rav4, Tacoma and more. Drivers interested in the event can check out their website to see all of the grand prix promotions and to find out more about the Scion FR-s.
About Hooman Toyota
Hooman Toyota
has been providing quality service to the Long Beach, California area for years. Determined to be honest and professional in their customer service, the dealership has been growing fast and has quickly become the number one Toyota and Scion dealership in the Long Beach area. If you are looking for a quality car or for quality service on your car, Hooman Toyota has the right products and services at the right price.
For more detail please visit,
www.hoomantoyota.com
.