Leading Hospital Bed Manufacturer Announces New "Floor Hugger" Model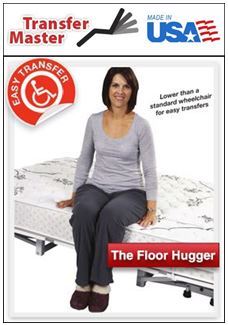 With 20 years' experience in designing and manufacturing adjustable hospital beds intended for use in medical centers and private homes, Transfer Master is pleased to announce that it is upgrading its flagship product that revolutionized the industry.
The new, patent-pending "Floor Hugger" model replaces the well-regarded, patented Original Transfer Master Hi-Low bed that helped launch the company's reputation upon the product's initial release in 1993. The Floor Hugger improves on this decades-old design; standing only 9.5" off the floor, it is lower than a standard wheelchair, thereby making transfer procedures easier. The bed's positioning can be adjusted using a wide range of special controls, including joy sticks and big buttons, for optimal convenience. It is available in sizes from 38" x 80" (Twin) to 60" x 80" (Queen), and it has a weight capacity of 300 pounds.
The Floor Hugger bed joins other top-quality hospital beds already featured in Transfer Master's catalog. The company's inventory includes an assortment of hi-low beds, bariatric beds, sleep lab beds, and
pressure mattresses
. Suitable for use in hospitals and private households alike, Transfer Master's beds can be custom-built according to a client's specifications.
For more information about Transfer Master's line of custom-designed beds, visit the company website at
http://www.transfermaster.com/
, where you can check out the online catalog and download a free brochure. Prospective customers can call 877-445-6233 for a free evaluation.
About Transfer Master
Since 1993, Transfer Master has manufactured and distributed high-quality custom-designed adjustable beds for hospitals and homes. The company's long list of clients includes private individuals, medical equipment dealers, postpartum wards, and sleep labs. Based in Postville, Iowa, Transfer Master ships its made-in-America products worldwide.