Alex Dunbar of CQB K-9 to be in Southern California for Episode of REAL MAN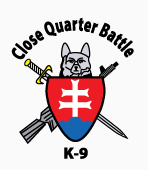 Colorado Springs, CO
- Alex Dunbar, the man behind CQB K-9, is excited to announce that he will be filming an episode of REAL MAN for YouTube. He will have the unique opportunity to showcase his Close Quarter Battle K-9 protection dog training experience for a riveted audience.
It's exciting to see what well-trained European German Shepherd dogs can do. Many people like the idea of having a dog around that can protect them from dangerous people. According to the owner of CQB K-9, Alex Dunbar, "Criminals interviewed state the last thing they want to come up against is a trained dog." Having a personal protection dog is a great way to stay safe and sleep well at night.
How does it work? Alex Dunbar personally trains the very best dogs 7 days a week at his 320-acre training facility in Southern Colorado, starting with pups that are just 8 weeks old. After they have reached 2 years of age, Alex Dunbar delivers them to his customers. What they end up getting is a bodyguard, companion, alarm system, and new family member, all at the same time. Pound for pound, customers won't find better-trained protection dogs or service than what they receive at CQB K-9.
About CBQ K-9
For many years, CQB K-9 has provided customers with the best-trained and highest quality attack dogs and protection dogs. The man behind this business has had decades of elite experience in training canines, and his trained German Shepherd protection dogs are perfect for families, felony crime victims, business owners, and women in danger. With extensive personal training with every dog, advanced training modules, and the very best customer service available, CQB K-9 is the best place to find K-9 protection dogs. For more detail please visit,
www.cqbk9.com
.