Classic Tub Repair is Now on Facebook and LinkedIn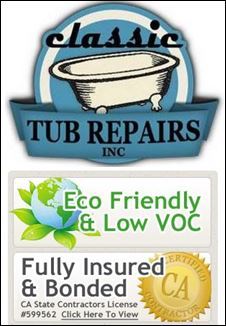 Camarillo, CA
- Classic Tub Repairs, the premier providers of kitchen and bathroom repair and refinishing services, is proud to announce that it's now on Facebook and LinkedIn. The expanding company urges customers and homeowners to "Like" its page in order to follow its latest exclusive news, specials, and promotions.
As a full-service company for refinishing and repairing, Classic Tub Repairs works on all kinds of surfaces, including porcelain and fiberglass tubs, sinks, showers, countertops, ceramic tile, and vanities. One of the company's most sought-after services is restoring old services so that they look like new again, including its popular bathtub reglazing. Customers of Classic Tub Repair appreciate the cost savings and convenience of refinishing an existing surface rather than demolishing and installing something brand-new.
On top of refinishing and restoring surfaces, Classic Tub Repairs is known for its repair services. It can easily repair cracks, scratches, rust areas, scratches, holes, and more. The company serves a wide range of clients, including homeowners, apartments, hotels, and management companies. According to a company spokesperson, "With our extensive experience, you can be assured you are receiving the best quality, craftsmanship, and customer service in our industry." The company demonstrates its commitment to this promise with every job.
About Classic Tub Repairs, Inc.
Over more than two decades,
Classic Tub Repairs
has worked hard to serve its customers with affordable and quality bathroom and kitchen remodeling services. It's built a solid reputation as the leading provider of quality craftsmanship and excellent customer service. Customers can trust Classic Tub Repairs as a bonded, licensed, and fully insured company that features a full office staff and more than thirty well-trained and certified field technicians with thousands of jobs' worth of experience. For additional detail please visit,
http://classictubrepair.com
.
Email Classic Tub Repairs, Inc.