The Value of Free Mapping Tools for Business Analysis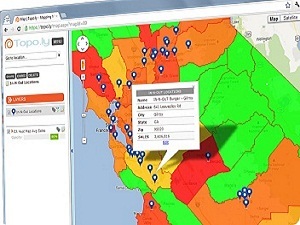 Business analysis is a serious discipline. It involves clearly identifying business needs and setting the course to succeed. Business analysts usually use data analysis tools to help them identify the problems and determine the solutions. The quicker they resolve a problem, the better. Thus, in the search of a valuable tool for data analysis, a growing number of business analysts have come to appreciate the value of Topo.ly Mapping.
Topo.ly online mapping site is dedicated to help many small, medium, and large businesses identify opportunities for growth or cost reduction. Data visualization brought by mapping easily helps these companies to create step-by-step solutions to specific problems. What's even better is that the leading mapping solution allows the users to
create maps for free
using Microsoft Excel spreadsheet data in an instant.
Mapping - An Invaluable Data Analytics Tool
Topo.ly as a data analytics tool has been used by hundreds of businesses, not only in the USA but also around Europe. It helps them identify opportunities to mitigate risks from competition maintain growth. There are many areas where Topo.ly is an invaluable data analytics tool:
Mitigating Risks
When a user plots a competitor's locations on a map, he or she can clearly see how the data is connected with their internal business model. By heat mapping, users can
visualize sales or customer density
. A quick glance can immediately identify the risks and use the same information to formulate business plans to mitigate and manage these risks.
Easy to Use
Who needs complicated and expensive computer software for data analysis? Topo.ly is free to use. What's even better is that it is simple. "Make Mapping Simple" is the caption of Topo.ly and as always, it stands by the same rule. As Tom Haydon, a successful business owner and satisfied user of Topo.ly said, "You folks have a great piece of software here. I was able to create a useful map within a few minutes of opening an account."
Identify Business Growth
Topo.ly users can add different data sets to help them identify business growth. They can also add territories to identify the future for possible expansion. Topo.ly lets the users use their creative juices to plan effective business steps for huge growth opportunities.
Those three areas and so many more makes Topo.ly Mapping an invaluable tool for business analysis!
Email Topo.ly Mapping Made Simple