Real Estate Agents Offer Savings Through Real Estate Coupons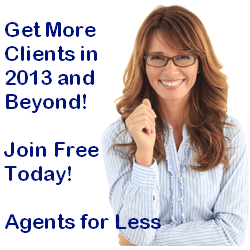 Los Angeles, CA – May 7, 2013 –
Agents for Less, a California-based online real estate directory service, recently launched their latest innovation in real estate marketing-real estate coupons. Proven to be an effective marketing tool, it took a while for coupons to be introduced into the real estate market. Nonetheless, Agents for Less is confident that buyers and sellers will easily catch on with the concept and that real estate coupons may soon become one of the preferred means of real estate advertising.
"Our free online directory service helps home buyers and sellers find and compare top-rated real estate agents that offer commission discounts, cash rebates and flat fee listings-marketing schemes that are easily catered to by the coupon system," said Michael Del Rosario, Founder of Agents for Less website. "If you're a real estate professional, Agents for Less works hard to provide you proven marketing tools to make it easier for potential clients to find and contact you directly. Our real estate coupon generator is one such tool."
Through Agents for Less' real estate coupons, flat fee real estate brokers and discount real estate agents can offer big savings when selling a home through flat fee listings, reduced listing commissions, commission rebates and other financial incentives both for home buyers and sellers. These virtual coupons which are made available through the website work just as well as actual coupons, which can be grabbed and presented to the agents to avail of the promised discount and client incentives. However, to create and advertise real estate coupons, agents must register online to become Agents for Less network members.
This new real estate coupon marketing tool for real estate agents was officially launched by the website on May 5, 2013 and has since been welcomed by professional discount real estate agents and flat fee brokers. It is widely accepted that
real estate coupons
may become one of the most common marketing strategies in the real estate industry.
"By using our free service, home sellers can receive multiple proposals from local real estate agents that are competing for listings," added Del Rosario. "Homeowners thinking of selling can
compare real estate commissions
and services before listing their property with an agent. Buyers can enjoy generous financial incentives such as cash rebates and real estate coupons when they buy a home."
About Agents for Less
Agents for Less is a national
directory of discount real estate agents
and
flat fee real estate brokers
. It's a free service that intends to provide more options for home buyers and sellers.
For more information on Agents for Less, visit their website at
www.agentsforless.com
.