Exciting Upcoming Summer Events Happening in Mille Lacs, Minnesota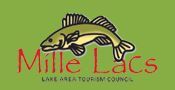 Mille Lacs, MN — May 8, 2013
– The Mille Lacs Area Tourism Council is thrilled to announce several upcoming summer
festivals and celebration events
in the Mille Lacs region of Minnesota. From May through August, there will be a multitude of fun and exciting recreational activities that are great for families looking for a vacation destination to spend the summer.
Communities around Mille Lacs Lake host fun, family-friendly events ranging from the
Wahkon Fireworks
to the
Garrison 4th of July Celebration
. Some of the biggest summer events include:
Onamia Days - From June 14 to June 16, families can bring their kids for a three full days of fun. Activities include demolition derby, kid's games, antique car show, sidewalk sales, carnival, beer garden, food wagons, street dances and a parade to conclude the weekend's festivities.
Isle Days - This summer will mark the 100th year anniversary of the City of Isle. From July 12 to July 13, Mille Lacs will hold a variety of family-friendly recreational activities including a kiddie parade and the Isle Day closing parade. Make sure you don't miss out on the all-ages Fun Run! Additionally, the Isle Lions commissioned a painting to commemorate Isle's 100 year celebration. "The Isle Centennial Print" by Ken Zylla is limited to 500 signed and numbered prints. Prints may be purchased at Isle Hardware Hank in mid-June.
Mille Lacs Band's Annual Pow Wow – Come help us honor the Native American people and culture of Minnesota. Dancers from across the country will participate in traditional dances and drum ceremonies during the annual Mille Lacs Band of Ojibwe Pow Wow. Other activities taking place in this event include princess and brave contests, art and crafts, raffle drawings, adult and youth horseshoe tournaments, and a closing ceremony.
Visitors to the Mille Lacs Lake area are presented with an almost endless array of recreational opportunities. One tourist commented, "Mille Lacs Lake is called Walleye capital of Minnesota, and they have at least a dozen fishing launches to prove it. Mille Lacs is a very relaxing place to spend a vacation with the family."
Aside from these summer events, Mille Lacs offers many attractions and things to do in the area such as camping, snowmobiling, and golf.
Fishing in Minnesota
is one of the most popular past-time for locals and visitors alike. Mille Lacs Lake is home to 40 species of fish including Smallmouth Bass, Northern Pike, Perch and Muskie. For those who want to experience the outdoors but want to stay on land, miles of hiking trails allow visitors to see wildlife up close such as deer, minks and black bears.
To learn more about the Mille Lacs region and to see upcoming events, please visit: millelacs.com.
About Mille Lacs Area
The Mille Lacs Lake Area, located in central Minnesota, is a vibrant region with a diverse economic base with unparalleled natural beauty and recreational opportunities. Mille Lacs Lake provides on of the best lake fishing experiences in the US, with the lake being able to accommodate fishing boats from 25 to 73 feet. While fishing might be the main attraction, the area also features fine dining, gambling, shopping and other outdoor activities. The Mille Lacs Lake Area is Minnesota's unforgettable vacation destination featuring amazing lakes, numerous recreational opportunities, and the natural beauty of the area.
Email Mille Lacs Area Tourism Council