Hydro Wholesale Pleased to Announce New and Improved Grow Light Reflectors Are Now Available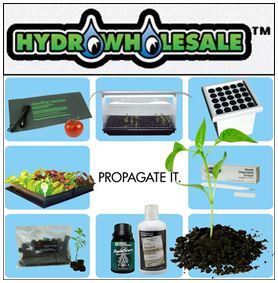 College Park, GA - Hydro Wholesale, the leading hydroponics equipment company on the Web, is excited to report that it is now offering new and improved grow light reflectors. The reflectors feature high percentages of reflectivity while remaining very economical.
Hydroponics is the newly popular science of growing plants without using any soil. As a unique mixture of nature and technology, the field of hydroponics is taking gardening and growing into new and exciting frontiers. Hydro Wholesale, a leader in the field, is proud to be able to offer new and improved grow light systems that make it even easier for customers to get the best results from the plants they're growing.
In addition to grow light kits, Hydro Wholesale offers a huge selection of hydroponics equipment designed to help plants grow and thrive. Some of these include grow tents, Canna nutrients, hydroponic fertilizer, air filtration systems, greenhouses, grow rooms, and many more. According to a spokesperson for the company, "We carry user friendly systems and supplies that will suit any hydroponic or soil grower." On top of Hydro Wholesale's commitment to offering great products and superb customer service, it also features free helpful guides and videos on hydroponics to help new growers get started.
About Hydro Wholesale
In the past decade, the field of hydroponics has seen dramatic growth, and
Hydro Wholesale
has been a major leader in the movement. The company provides quality hydroponic resources to all kinds of customers, gardeners, and growers at every level of experience. Hydro Wholesale is dedicated to being a one-stop shop for hydroponics equipment shoppers by offering all of the user-friendly systems and specialty supplies that its customers need to enjoy great success. Featuring a vast selection and unmatched wholesale pricing, Hydro Wholesale continues to be the perfect destination for hydroponic supplies. For more detail please visit
www.hydrowholesale.com
.