Eastern Dentists Insurance Company Announces New Online and Classroom Continued Education Courses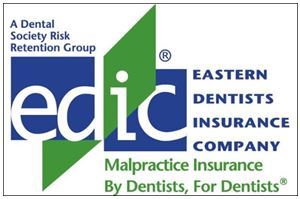 Westborough, MA –
Eastern Dentist Insurance Company
(EDIC) is committed to assisting with dental liability insurance throughout the practitioners' career. To ensure colleagues have the best possible understanding of dental liability, EDIC offers web-based and classroom risk management courses for dentists. The online webinars qualify for continued education units and are among the many value-added benefits EDIC provides to its colleagues to stay up-to-date on new dental technology and minimize dental professional liability claims.
To prevent dental liability claims, it is imperative for dentists to be informed about the newest trends in risk management and liability within their profession. Risk management webinars and classroom courses offered by EDIC are beneficial for new and experienced dentists alike. Learning ways to avoid dental liability claims ensures a long-lasting and successful practice. EDIC's risk management courses emphasize the importance of good recordkeeping, how to dismiss a patient, and the proper dispensing of certain medications for dental treatments and for post-surgical complications.
Webinars offered by EDIC to help mitigate dental liability claims include topics such as Digital Radiology, Informed Consent and Record Keeping, Integrating Progressive Therapies into Clinical Decision Making, Treatment Planning of Failed Esthetic Cases and many other challenges dentists face that leave them open to dental liability claims. These courses are developed by dentists who have published in acclaimed dental journals on their individual specialty and serve on various education and professional boards.
These online video-based courses are ideal for busy dentists. These courses can be taken online at your convenience and may earn you two CEU credits per session with a passing grade. EDIC also offers on-campus risk management classes and Lunch-n-Learn seminars at dental schools for dental students. These classes are held throughout fifteen dental schools in the North East.
For more information and to register for a webinar of classroom risk management course, visit
http://www.edic.com/
or contact EDIC at 508-836-4204.
About Eastern Dentists Insurance Company
Founded in 1992 by the Dental Society of Massachusetts, as a "By Dentists, For Dentists®" company, Eastern Dentists Insurance Company (EDIC) has grown to thousands of colleagues in Massachusetts, Rhode Island, Connecticut, New Hampshire, Vermont, Maine, New Jersey, New York, Pennsylvania, Virginia, and North Carolina. The company was expressly formed to control the rising costs of dental malpractice insurance and allow colleagues to control their own destinies.
Email Eastern Dentists Insurance Company (EDIC)