Families Book DoubleTree by Hilton Pittsburgh Downtown for University Graduations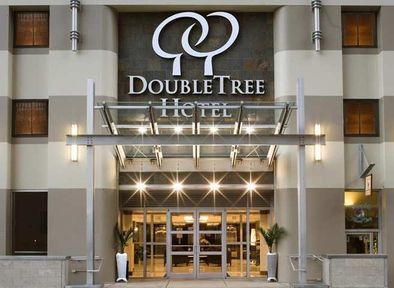 The early weeks of May are an important time for many young adults and their families as commencements take place at colleges and universities across the country. In Pittsburgh, there's excitement in the air as several major universities, including University of Pittsburgh, Duquesne University, and Carnegie Mellon University, celebrate the completion of their graduates' programs of study.
At the University of Pittsburgh, commencement was held April 28th, and between its five campuses, approximately 6,000 undergraduate, graduate, and professional degrees were awarded. At Duquesne University, the ceremony took place on May 3 where almost 1,600 students received their diplomas. At Carnegie Mellon University, over 2,000 undergraduate students alone are expected to attend the commencement ceremony on May 18. Just these three universities draw in several thousand families each year to mark this rite of passage in Pittsburgh.
With about 20 Pittsburgh-based universities holding their graduations in early and mid-May, hotels in the area are often booked solid during Commencement Weekend. Many families look for the best locations to use as a base for sightseeing while in the city, so competition can be fierce for rooms in downtown Pittsburgh hotels.
After receiving the date of a child's graduation ceremony, parents and families should book their hotel rooms as early as possible. DoubleTree by Hilton Pittsburgh Downtown accepts reservations up to a year in advance, a crucial service for families gathering to see a graduation. From the hotel, travelling to any of the three major universities, Duquesne University, Carnegie Mellon University, or University of Pittsburgh, is under ten minutes by car. Duquesne University is even within walking distance. The hotel's downtown location allows families to easily visit their students on campus while also positioning them in a great location to reach some of Pittsburgh's most quintessential areas and sights.
To book a room, call the DoubleTree by Hilton Pittsburgh Downtown concierge directly, or visit the hotel's online portal:
http://doubletree3.hilton.com/en/hotels/pennsylvania/doubletree-by-hilton-hotel-and-suites-pittsburgh-downtown-PITDTDT/index.html
.
DoubleTree by Hilton Pittsburgh Downtown is a luxury hotel in the heart of Pittsburgh's cultural district and central business district. Within walking distance of Point State Park, Station Square, and the Strip District, the hotel grants guests easy access to some of Pittsburgh's most exciting neighborhoods. Contact DoubleTree by Hilton Pittsburgh Downtown to hear more about amenities and services the hotel has to offer.
Email DoubleTree by Hilton Pittsburgh Downtown