CustomUSB Releasing Two New Products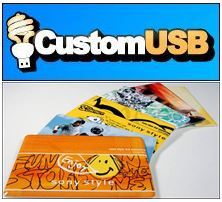 Northbrook, IL - CustomUSB is releasing two new products they are very excited about. The first is the PortableApps.com Carbide Drive with a PIN code access and military grade AES 256-bit encryption to keep all data stored on this drive secure. The PortableApps.com Carbide Drive will also come pre-loaded with the latest PortableApps.com platform and a free 5-year subscription to portable antivirus by ESET.
The second new product is a business card with new Enhanced Print technology. This technology allows CustomUSB to add a tear-off USB drive to the side of a standard paper business card, allowing the customer to upload files, links to websites, etc., as well as tracking to see who has used the business card.
CustomUSB founded in 2002 and headquartered in Northbrook, IL, is a service oriented custom memory products manufacturer. They produce
USB drives
for customers ranging from Ad Agencies to Fortune 500 companies. They have strong manufacturing capabilities that allow them to output a large volume of USB drives, fulfilling orders with short delivery times and complex technical specifications.
Whether you're looking to make custom flash drives for your ad campaign, one-of-a-kind USB drives as retail products, or robust content-delivery devices, their team of USB experts are happy to help with every aspect of your project. For additional information please visit,
https://store.customusb.com
.