CashU Virus Ransomware Designed to Extort Money from Unsuspecting Computer Users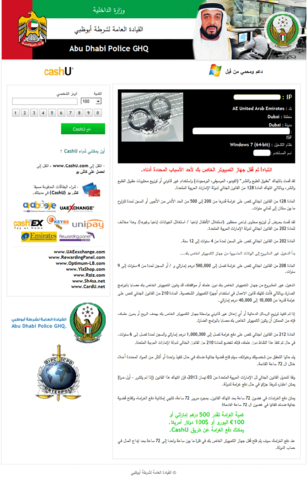 CashU Virus is a ransomware threat that comes in the form of a message that is based on a local law enforcement agency. The message makes claims to officials detecting illegal activity on a computer and then asks that the PC user pay a fine through the CashU payment system on the Internet.
There are many variations of the CashU Virus where they are all ransomware messages that claim to be police entities in Arab nations or other local providences. CashU is a legitimate only payment system much like PayPal or Moneypak.
The fine asked by CashU Virus and other related ransomware messages is baseless and should never be paid. Even though CashU Virus will lock up a system by preventing access to some programs or the Internet, computer users should never willingly pay the assessed fine. The ransomware threats related to the CashU Virus, such as the CashU Computer Blocked Ransomware,
International Cyber Security Protection Alliance Virus
, Lebanese Internal Security Forces Virus and the Lebanon Police Ransomware, all share the basic idea of offering CashU as a payment system for collected a fine.
CashU Virus usually comes from a Trojan or other malware obtained from the Internet. At times a download file or application from a questionable source may load the CashU Virus, which will then prevent normal usage of your computer.
The newly released CashU removal report on EnigmaSoftware.com
http://www.enigmasoftware.com/cashuvirus-removal/
has been updated to provide the necessary resource to detect and safely remove CashU Virus and all of its related malware files. Through the report, CashU Virus is identified as a Virus and Ransomware threat. The confusing pop-up alert of CashU Virus may look convincing but should never be treated as being legitimate under any conditions.
It is in a computer user's best interest to become educated on threats like CashU Virus, so they are not willing to pay the assed fine. Payment of the fine will only repeat the
CashU Virus message
and keep the infected system locked up.
CashU Virus is a scam that was created and marked by cybercrooks who look to gain a payday at the expense of victimized computer users. Under no conditions should you ever trust a message like the CashU Virus pop-up notification. CashU Virus was designed exclusively to be a money extortion scam.
Email Enigma Software Group USA, LLC