The Proven OPS 1-TOUCH™ 1000 Vandal Proof Soap Dispenser Is Now Available For The Transportation Industry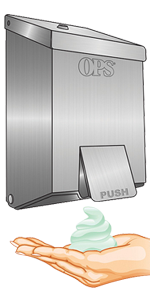 May 16, 2013 – San Francisco, CA - Operators and facilities managers at high traffic lavatories at venues like train stations, Interstate highway rest stops and subway stations count the costs of vandalism as one of their chief concerns. Such facilities must make lavatory access available to the public. Except when closed for maintenance, places like Interstate highway rest stops are generally open around the clock. Many of these types of facilities operate on limited public funds and generally lack a robust staff to closely monitor and prevent bathroom vandalism.
Archer Manufacturing wants these facilities managers to know that an indestructible, 100%
vandal proof soap
dispenser exists, and can stop vandals in their tracks. They are so confident in their system that they offer a 5 year warranty against vandalism! If their dispenser is damaged by vandalism in any way, they will repair or replace it – free of charge.
Archer's dispenser is armored with 14 and 16-gauge brushed stainless steel, and is designed to prevent penetration by knives, physical force, and blunt trauma. For added security, Archer added a stainless steel, circular keyway cam lock system, which provides secure protection against anyone who tries to open the dispenser. This lock prevents theft of the soap, and stops vandals from adding foreign contaminants to the soap itself.
Archer Manufacturing's OPS 1-TOUCH™ dispenser is secured to the wall by using up to 6 cement anchors. These anchors prevent vandals from tearing the dispenser off the wall. The stainless steel design can withstand any amount of "wear and tear". These dispensers will never break, never get torn off the wall, and never wear out. The purpose of the 1-Touch dispenser is to ensure that facility managers will never have to replace their soap dispensers ever again!
For 20+ years, Archer has specialized in designing
commercial soap dispensers
for prisons, psychiatric hospitals and other institutions where protection against vandalism and its costs are of paramount concern.
"With its unique design and track record for preventing vandalism, the
OPS 1-Touch 1000
is truly in a category of its own. The 1-TOUCH's proven unprecedented durability and risk-free five-year warranty also makes the OPS 1-Touch an extremely cost effective purchase for facility managers looking at the total cost of ownership," says Andrew Werth, VP of Marketing at Archer Manufacturing. "With the added durability of the 1-TOUCH 1000, Archer now extends to the transportation industry the greatest protection against bathroom soap dispenser vandalism." Andrew further points out, "While the possibility of vandalism at highway rest stops may be perceived to occur with less frequency than in prisons or psychiatric institutions, vandalism can happen at any time at a facility that is open to the public. This is especially the case at a facility that is known to be monitored with much less frequency due to personnel constraints."
Information about the OPS 1-TOUCH 1000 is now available through Archer's
www.VandalProof.org
website. Visit now to learn more.
About Archer Manufacturing
Archer Manufacturing is a direct sales company that provides excellent customer service and the lowest possible price to their clients. VandalProof.org is the sole source for the OPS 1-TOUCH™ 1000 soap dispenser for public facilities. This website has a library of detailed information on the 1-TOUCH 1000 dispenser, including details on best practices for the dispenser in various types of facilities like medical, educational, correctional, fitness and transportation. The website also has an extensive blog of useful articles on additional steps for preventing vandalism in public lavatories and preventing the spread of illness. Visit the website to learn more.
Media Contact Information
Email Archer Manufacturing