Rubber Sheet Roll Strengthen Inventory, Add Fabric-Inserted Silicone Rubber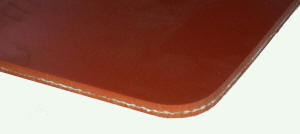 Central Pennsylvania vendor, Rubber Sheet Roll is currently stocking fabric coated silicone rubber. Reinforced silicone is useful for applications where stress is static and pressures are low. Fiberglass-infused silicone rubber is ideal for jobs that have high bolt or compression loads. Fabric silicone is available in single, double, and triple ply depending on required tensile strength. Typical uses include flange gaskets, diaphragms, meters, control devices, welding curtains, pumps, and regulators.
Cloth inserted Silicone rubber is a very versatile material because it has a temperature range that is more extreme than other synthetic rubber. Reinforced silicone rubber is inert, very flexible and can be used in medical and FDA environments. In addition to temperature, fiberglass silicone rubber has superior resistance to water and makes an excellent electrical insulator. To view the numerous types of neoprene visit
www.rubbersheetroll.com
or direct any questions to our sales team, toll free at 866-832-5797.
Rubber Sheet Roll, LLC manufactures and distributes rubber sheets and rubber rolls to a range of customers from individual consumers or building contractors to high tech military buyers. Rubber Sheet Roll is located in south central Pennsylvania with logistical locations throughout the US. For a more comprehensive overview, visit
www.rubbersheetroll.com
.
Attachments