Dr Stacy Kitchell, D.C. Provides Advanced Chiropractic Care to Pregnant Women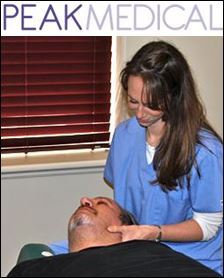 Berkeley Heights, NJ -
Peak Medical
is proud to announce Dr. Stacy Kitchell, D.C.., has completed the requirements of the International Chiropractic Pediatrics Association Perinatal Care course. She earned her Doctorate of Chiropractic from New York Chiropractic College in 2009. Dr. Kitchell is a member of the American Chiropractic Association and has special interest in providing chiropractic care to children and pregnant women.
The International Chiropractic Pediatrics Association Perinatal Care course covers techniques and case management skills for clinicians providing care to patients during pregnancy, birth and infancy. The instructor and creator of the course, Dr. Jeanne Ohm, highlights disorders commonly occurring during pregnancy, explores the relationship between chiropractors and other birth care providers. Additionally, course participants gain certification in the Webster Technique, which establishes balance in a pregnant woman's pelvis in a way that reduces stress on the uterus and decreases the risk for breech births.
The NJ physical therapy specialists at Peak Medical understand that chiropractic care during pregnancy is not only safe, but it is sometimes necessary. About
4 percent
of all pregnancies result in a breech presentation, when the baby tries to emerge feet-first. The American Pregnancy Association estimates 82 percent of breech babies turn the right direction when practitioners apply the Webster technique. Dr. Stacy Kitchell and the rest of the staff at Peak Medical continue their education to provide patients with superior care.
About Peak Medical
Peak Medical is multi-doctor, multi-disciplined medical center that offers chiropractic, applied kinesiology, and acupuncture care from medical doctors, chiropractors and physical therapists. Additionally, the professionals at Peak Medical offer physical therapy, exercise, diet and nutritional services to provide total body wellness to patients living in the Berkeley Heights, NJ, community. For further detail please visit,
www.peakmedicalnow.com
.