Enter to Win a $250 Lowe's Gift Card in the ChoiceDek® Composite Decking Sweepstakes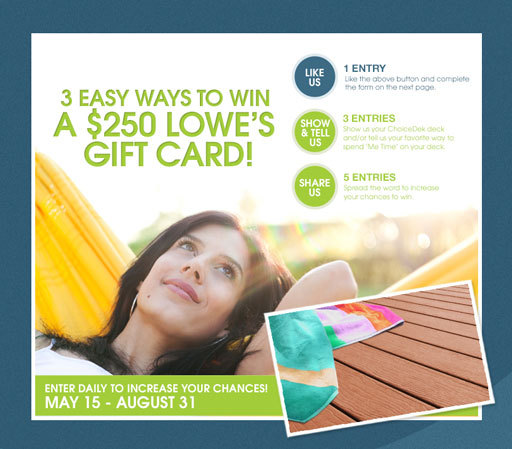 Springdale, Ark., May 16, 2013 – People interested in outfitting their deck for more "me time" this summer could win a $250 Lowe's gift card in the ChoiceDek® Composite Decking sweepstakes. ChoiceDek is offering several simple ways to obtain sweepstakes entries via Facebook. To enter, go to
http://facebook.com/ChoiceDekDecking
. The sweepstakes is open May 15 through August 31, 2013.
http://www.choicedek.com/
"The winner can use the gift card to help build a new deck, accessorize their existing deck, add landscaping to the yard, or any other home improvement project they choose," said Brent Gwatney, Senior Vice President of Sales and Marketing for ChoiceDek composite decking. "The extra money can be a great way to beautify their existing deck or add on to it."
The ways to gain entries in the sweepstakes are:
1 entry for liking ChoiceDek on Facebook (up to 1 entry per day)
3 additional entries for submitting a photo of their ChoiceDek composite deck and/or submitting a 100-word write-up of their favorite way to spend "me time" on their deck
5 additional entries for every friend that enters the sweepstakes from the unique referral link found on the registration confirmation page
For complete sweepstakes rules, see
www.choicedek.com/literature/Official-Rules.pdf
.
ChoiceDek Foundations composite decking is manufactured with advanced technology to resist stains, mold and mildew. ChoiceDek's new speed rail system provides a fast and easy way to add composite railing to any deck. Due to their exceptional moisture and insect resistance, Foundations products can be installed on the ground, in the ground or even underwater without voiding the warranty. All ChoiceDek products are made of 95% total recycled content, keeping pre- and post-consumer plastic materials such as packaging films and shopping bags from ending up in landfills.
About ChoiceDek Composite Decking
ChoiceDek composite decking and railing is manufactured by Advanced Environmental Recycling Technologies, Inc., (A.E.R.T.), a microcap, entrepreneurial, publicly held manufacturing company. The development of new technologies and patents has enabled A.E.R.T. to produce superior new products from recycled wood fiber and recycled polyethylene plastic for the building and construction markets.
www.choicedek.com
Email ChoiceDek Composite Decking