In-Line Heaters Can Be Used to Address Oil Viscosity Problems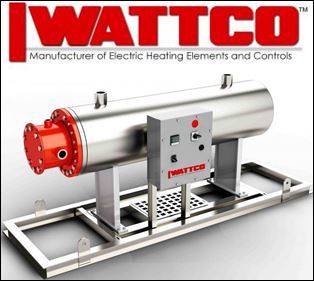 Hallandale, FL - Wattco, a
premier electric heating products manufacturer
, is taking this opportunity to announce that an in-line heater can be used to address oil viscosity problems. Also know as circulation heaters, in-line heaters are able to transfer the heat generated from electrical power into the target fluid, which maintains fluid viscosity, as well as regulating and controlling the temperature.
Improper liquid viscosity can slow down the overall time of production. Fortunately, the in line water heater is intended for processing fluids, including hazardous liquids, that need intermediate heating while maintaining a flow rate. Controlling the liquid flow rate of the heater is easy, because operators can manipulate and regulate the wattage to settle on the desired temperature. Since the flow rate is directly proportional to the temperature and liquid viscosity, customers won't have to worry about oil viscosity problems anymore.
In addition to in-line heaters, Wattco offers a wide range of electric heating products, including the strip heaters, band heater, duct heater, infrared radiant heater, tubular heater, and many more. The company's quality products meet industrial standards such as CSA and UL requirements, but it's also known for its customer service. According to a spokesperson for Wattco, "Wattco understands the value of service and the needs of customers, which is why customers are our number one priority… period." The company's mission to offer customers the very best service has elevated Wattco to the position of most trusted manufacturer for thousands of clients.
About Wattco
Since its establishment in 1969,
Wattco
has provided some of the leading electric heating products to a variety of industrial clients, including circulation heaters and water heater elements. The company is proud to have a price guarantee for the lowest prices around, as well as the ability to provide quotes within an hour. Featuring the fastest turnaround time available and a commitment to customer service, Wattco is the perfect choice for customers who need industrial electric heating products. For additional information please visit,
http://www.wattco.com
.