CAI Safety Emphasizes the Need for Mobile Fall Protection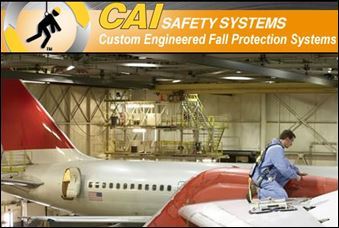 Corona, CA - CAI Safety, one of the premier providers of fall protection safety equipment, is taking this opportunity to remind businesses how important it is to use industrial safety gates, guardrail systems, and gangways that conform to OSHA safety standards. The use of fall protection equipment is a critical way to help protect employees while limiting company liability.
Statistics from OSHA and other prominent federal agencies cite falls as the second-highest cause of death on the job in the United States. Tragically, the number of injuries and deaths caused by falls is still increasing, in spite of the fact that most falls can be prevented with the proper precautions. That's why companies need to install mobile fall protection on whatever job site they're working at. Fall protection equipment will help ward off the needless pain and suffering of employees, while also helping companies avoid massive OSHA citations and costs from litigation.
Fortunately, CAI Safety's products are built from the ground up to meet OSHA safety regulations, including its mobile fall protection equipment. According to a spokesperson for CAI Safety, "Our
mobile fall protection
systems provide you with a safety system that is non-penetrating and portable, perfect for servicing aircraft, railcar, truck, roofs, and many other elevated surfaces." With the possibility of adverse weather conditions or unforeseen circumstances on the job, portable fall protection is a must, and CAI Safety is the best choice for the equipment customers need.
About CAI Safety
For a number of years,
CAI Safety
has provided a wide range of clients with OSHA compliant fall protection equipment of all kinds. Not only do the company's products help save lives, but they're also designed to be easy to assemble, configure, use, and store. Featuring custom solutions that have been field-tested for success, CAI Safety is the perfect destination for companies needing a quality fall protection system. For more detail please visit,
www.caisafety.com
.