Defining Data Value with Topo.ly Online Mapping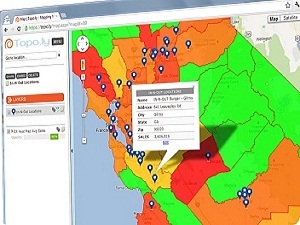 How companies use their data over the recent years has drastically changed. BI tools flourish all over the world to keep up with the growing demands of many companies to develop innovation and discover new insights. The 21st century has seen a growing use of data analytics to improve business operating processes. In fact, 39% in most organizations have found data analytics to be the top priority. With the intention of helping companies understand their location data better, Topo.ly announces features that can be used to make better, smarter and faster decisions.
Thousands of companies have signed up to the online mapping site and experience a value-based mapping technology to the fullest. Tom Haydon who owns a consulting firm was impressed to Topo.ly's functionalities as he says, "You folks have a great piece of software here. I was able to create a useful map within a few minutes of opening an account."
Features That Define Data Value
To utilize the efficiency of Topo.ly, it developed features that are easy to use and can provide great results in a fraction of the time.
Heat map customer sales data
Simply looking at Microsoft Excel spreadsheets data can tedious. With heat mapping feature of Topo.ly, data can be valuable and can readily used to ignite ideas and spark new plans to further business dealings. Topo.ly's mapping visuals make it easy to see data. Analysis measured through heat mapping can be used to:
Construct realistic business strategy plans
Identify growth potentials
Mitigate risks
Manage business effectively
Perform channel optimizations
Understand customers' geographical locations
Understand the landscape
Heat map for disaster recovery or risk mitigation
Companies need not to wait to experience destructive disasters before they act. Instead, with Topo.ly's modern mapping application, they can plan ahead by heat mapping their customers' locations, suppliers, business assets and even alternate routes in less than 5 minutes.
For businesses, defining data value is as critical as running the business itself. They can run their businesses smarter and better with the valuable features by the data analytics provided by Topo.ly online mapping site.