Dr. Toy Announces Best Green Products 2013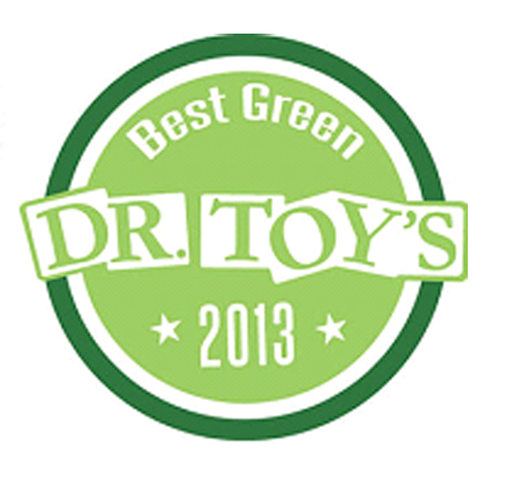 San Francisco, CA - For the seventh year Stevanne Auerbach, PhD/Dr. Toy, recognizes the Best Green Toy and Children's Products and the Best Green Toy Company. Dr Toy brings attention to the excellent innovative products and companies that are working toward making an important difference in playthings while reducing the impact of production. Past Best Green Toy Company Winners include Blue Orange Games, Green Toys, Hape Toys, Hugg a Planet, Maple Landmark and Plan Toys, Winner of 2013 award is announced below.
The award winning Green Products are made by companies striving to inspire children to appreciate the environment and help them learn to take better care of our natural resources. These companies are making products to teach children more about our planet and producing playthings that are based on Green Principles. These are excellent examples of playthings that are made safely, are healthy to use, and have plenty of other special play and learning values.
These green toy products constitute a small number among all the choices of the many positive play products available, but we need to start somewhere. As awareness grows more families are thinking and considering new directions that are safer, more balanced, healthier and in many cases are reflective of the "slow" movement as they provide play that respects the child's pace of exploration.
About the Best Green Company 2013 – Thames & Kosmos
Dr. Toy is pleased to bestow the highly coveted Seventh Best Green Toy Company Award to Thames & Kosmos. Since its founding in 2001, Thames & Kosmos has been committed to its view of education and science as crucial aspects of its social responsibility. Over the past twelve years the company has educated millions of young scientists about alternative energy, the conversation of natural resources, and environmental science through its diverse offerings of hands-on, educational science kits. The current 2013 line includes over 15 kits that focus on Alternative Energy & Environmental Science. Each year, Thames & Kosmos donates a portion of the sales from these kits to environmentally focused non-profit organizations in the United States. The company has contributed to programs devoted to environmental education and/or the advancement and adoption of renewable energy practices, including the Apeiron Institute for Sustainable Living, Southside Community Land Trust (an urban agriculture program in Providence, RI), and Clean Water Action. Thames & Kosmos also makes frequent contributions to Resources for Rhode Island Education, a local non-profit that encourages the preservation of the environment by diverting clean, non-toxic, and reusable excess inventory from local businesses to educators and community organizations. The company'sr first product, the Fuel Cell Car, was released in 2001, followed shortly by the Power House kit. The award-winning Alternative Energy & Environmental Science line continued to grow to include Wind Power and Hydropower, which explore the practical applications of alternative energy resources; and Global Warming, which focuses on the impact of modern industry on the planet's climate. In 2010, Thames & Kosmos introduced Sustainable Earth Lab, a comprehensive environmental science kit; then the new Stirling Engine, a unique heat engine that converts solar heat into clean electricity; and five new renewable-energy based kits in the Construction Series. The company announced four new Alternative Energy kits, including kits on solar thermal energy, electrochemistry, and solar power. More details on
www.drtoy.com
and
www.thamesandkosmos.com
About Best Green Toy Products
Dr. Toy recognizes these fine Best Green Toy Products and the astute companies making these eco-friendly products. They are each making a difference in their own way and making important contributions. Each step moves us toward a healthier home and community.
Dr. Toy has identified diversified products that help children learn more about their world. She has found quality products made from organic materials, or produced in ways that are healthier. Consumers are encouraged to consider these products for home or school or as gifts. Dr. Toy is pleased to recognize these ground breaking companies and products that are helping to create a healthier place for everyone to live.
DR. TOY'S BEST GREEN PRODUCTS FOR 2013
Selected by Stevanne Auerbach, Ph.D. (Dr. Toy)
4M Industrial Devel.- Grow-A-Maze ES SC SR TY GN
4M Industrial Devel.- Salt Water Power Robot CO ES SC SR GN
ALEX - 3D Fairyland ES PZ SR
ALEX - Eco Craft AC CP SR
ALEX - Eco Scrapbook AC CP SR
BeginAgain - Scented Scoops FP OT SR TY GN
Blue Orange - Keekee the Rocking Monkey ES GE SR GN
DuneCraft - Tropical Jungle LED Light Cube ES GN OT SC SR
Green Kid Crafts - Discovery Box AC CP ES SC SR
Green Toys - Rocket OT SR TY UN GN
Hohner Inc/Green Tones - Bear Drum ML MM TY
Hohner Inc/Green Tones - Race Car Whistle ML MM TS TY
Kiwi Crate - Caring for Earth Crate AC CP ES SR GN
Little Yoga Mat - Little Yoga Mat AE SR GN 0-4
Montessaurus - Montessaurus Sizing Blocks/Board ES BG GN PZ SR
OWI - 14 in 1 Educational Solar Robot Kit CO CP EL SC GN
Pacific Play Tents - My 1st Garage Play House AE CP OP SR TY
PlanToys - Gears & Puzzle Deluxe CO ES PZ SR GN
Smart Toys & Games - Bunny Peek A Boo ES GE PZ SR TY
Thames & Kosmos - Climate & Weather CO ES SC TY
Thames & Kosmos - Solar Power PLUS CO ES SC TY
Thames & Kosmos - Wind Power 2.0 CO ES SC TY
Wild Republic -Audubon Birds Clasp Purse ES OT PL SC SR
WowToyz - E-Z Crafts Paper Recycling Workshop CP ES GN SC SR
Key:
AC = arts and crafts
AE = active
BG = board game
CO = construction
CP = creative product
EL = electronic product
ES = educational skills
FP = fantasy play
GE = game
GN = green
ML = musical
MM = multimedia
OP = outdoor play
OT = other
PL = plush
PZ = uzzle
SC = science
SR = socially responsible
TS = transportation
TY = toy
UN = unique
About Dr. Toy and Award Programs
Stevanne Auerbach, PhD/Dr. Toy, author of Dr. Toy's Smart Play/Smart Toys, which provides tools to enhance the child's "PQ" (Play Quotient) from baby to age 12 (is published in the USA and in many other countries), 15 books, and hundreds of articles on toys and play, is the only PhD in Child Development evaluating the best developmentally appropriate toys and children's products for Dr. Toy's Guide with links to many related useful sites and resources for parents, teachers, children, and toy enthusiasts.
Interviews regarding the recommended Best Green Products can be arranged through Walsh PR, 203-292-6280,
greg@walshpr.com