The American Academy Of Procedural Medicine Announces Aesthetic Training For All Medical Professionals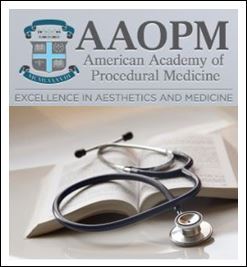 With the ever-decreasing percentage of medical procedural reimbursements, doctors have been forced to look for new alternative revenue streams.
Medical aesthetic training
provides medical professionals with an excellent source of additional revenue. Today, medical aesthetics including dermal fillers, Botox, cosmetic lasers and others are among the most requested cosmetic treatments. Properly trained doctors, nurses and physician assistants can deliver these highly sought-after treatments right in the comfort of their office.
The American Academy of Procedural Medicine (AAOPM) brings this medical aesthetic training directly to the medical professionals and provides them with the necessary skills and certifications to deliver these popular procedures. Among the medical aesthetics training courses offered by AAOPM are comprehensive
Botox training
, cosmetic laser training courses and certification, comprehensive dermal filler training and advance medical aesthetics training. AAOPM also provides medical professionals with information about how to maximize their newly acquired medical aesthetics skills to maximize their success and bottom line.
Medical professionals will benefit from medical aesthetics training offered by their peers and colleagues. Many board-certified dermatologists, plastic surgeons, and family practitioners have all found great success dealing in aesthetic medicine and are happy to pass the knowledge on through the AAOPM. With the medical aesthetics training, medical professionals will also be able to hear from a wide range of additional speakers in the fields of medical spa consultation and ownership, providing knowledge and experience in how to properly and successfully maintain a medical spa.
AAOPM is widely regarded by professionals in medicine as one of the most comprehensive certifications in medical aesthetics training. In order to keep that trust and keep up with the ever evolving industry trends, the academy continually expands and updates the materials presented with medical aesthetics training. Medical aesthetics training courses from AAOPM are available at major cities across the country throughout the year, so medical professionals can take courses that meet their professional interests at their convenience.
For a complete calendar of medical aesthetics training courses available and to register for a course, visit
www.aaopm.com
.
About The American Academy of Procedural Medicine:
Founded by a group of Surgeons and Primary Care Specialists whose primary focus is to establish the highest standards for Physicians of all specialties in procedural and hands on skills. The American Academy of Procedural Medicine, or AAOPM, is recognized throughout the US, Asia, and South America as an educational resource and accreditation organization providing Board Certification pathways and Training in traditional procedures as well as in the latest medical advancements for Physicians as well as other healthcare professionals worldwide.
Email The American Academy of Procedural Medicine