Rubber Sheet Roll Diversify Inventory, add FDA Grade Silicone Rubber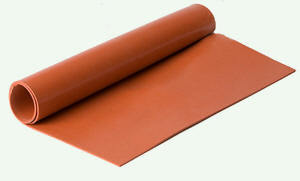 FDA rubber has a unique synthetic elastomer which is made from a cross-linked polymer that is reinforced with silica. Due to the high temperature rating of silicone as well as FDA compliancy, this rubber is ideal for jobs requiring rubber for oven usage or non stick pads. This product is a necessity for food production as well as transportation. Rubber Sheet Roll also offers silicone in an assortment of durometer, or hardness level, ensuring there is a rubber for every function. Common applications for FDA rubber include industrial seals, vibration pads, food processing, and rubber diaphragms. This FDA rubber adheres to ASTM D 2000, ZZR 765, ASTM D 1418, 21 CFR, ASTM D 1056, ASTM D3756, and more.
FDA Silicone rubber is a very versatile material because it has a temperature range that is more extreme than other synthetic rubber. FDA approved silicone rubber is inert, very flexible and can be used in medical and FDA environments. In addition to temperature, food grade silicone rubber has superior resistance to water and makes an excellent electrical insulator. To view the numerous types of silicone visit
www.rubbersheetroll.com
or direct any questions to our sales team, toll free at 866-832-5797.
Rubber Sheet Roll, LLC manufactures and distributes rubber sheets and rubber rolls to a range of customers from individual consumers or building contractors to high tech military buyers. Rubber Sheet Roll is located in south central Pennsylvania with logistical locations throughout the US. For a more comprehensive overview, visit
www.rubbersheetroll.com
.
Contact Information
Sales Admin
Rubber Sheet Roll
Contact Us
Attachments