RSR Now Carry Transparent High-Grade Silicone Rubber Sheets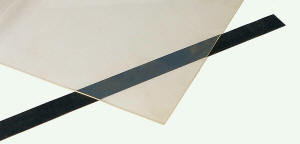 Rubber Sheet Roll is now filling the void for transparent rubber products. Translucent silicone is a thin rubber, available from 1/64" to 1/16" in thickness. Despite this silicone being thin, it is chemically inert with no odor or out-gassing in its solid state. Also a primary advantage of using clear silicone rubber is its high tensile strength and high elongation ability. Common applications for transparent silicone are o-rings, packings, gaskets, keypads, neuroscience usage, and various other medical and electrical functions.
Clear silicone is a very versatile material because it has a temperature range that is more extreme than other synthetic rubber. Clear rubber is inert, very flexible and can be used in medical and FDA environments. In addition to temperature, food grade silicone rubber has superior resistance to water and makes an excellent electrical insulator. To view the numerous types of silicone visit
www.rubbersheetroll.com
or direct any questions to our sales team, toll free at 866-832-5797.
Rubber Sheet Roll, LLC manufactures and distributes rubber sheets and rubber rolls to a range of customers from individual consumers or building contractors to high tech military buyers. Rubber Sheet Roll is located in south central Pennsylvania with logistical locations throughout the US. For a more comprehensive overview, visit
www.rubbersheetroll.com
.
Attachments